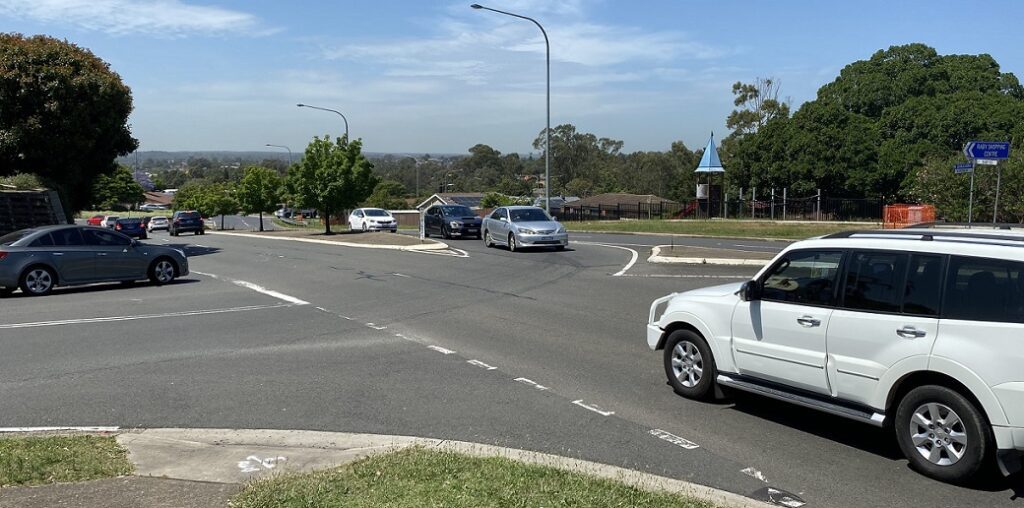 It wasn't that long ago that Raby Road was a goat track connecting Campbelltown Road and Camden Valley Highway.
These days though Raby Road is a major arterial crossing to the Hume Highway for residents from Camden and the wider Macarthur region.
It now also connects with Camden Valley Way at a second location, Gregory Hills, via Eagle Vale Drive and Badgally Road.
All this means that motorists who travel along Raby Road know that negotiating most of the intersections along the way requires patience and a lot of care.
Two intersections stand out: at Spitfire Drive and Eagle Vale Drive, because that's where most of the traffic is funnelled in this precinct.
But turning into Spitfire Drive from Raby Road, pictured above, is also a risky proposition because it's a blind spot and there are no traffic lights.
The same applies for the roundabout at the Raby Road and Eagle Vale Drive intersection, one of the busiest in Campbelltown.
All that will soon be in the past because traffic lights will be installed at both intersections as part of a $7 million upgrade of Raby Road.
Features of the upgrade include:
Replacement of the Eagle Vale Drive/Raby Road roundabout with traffic lights;
New traffic lights at the intersection of Raby Rd and Spitfire Drive;
Construction of a new shared pathway for pedestrians and cyclists;
New slip lanes for Eagle Vale Drive to Raby Road (north) and Raby Road to Eagle Vale Drive (west);
Extending the retaining wall along Raby Road;
Landscaping and tree planting on the corner of Eagle Vale Drive and Raby Road.
Work started yesterday.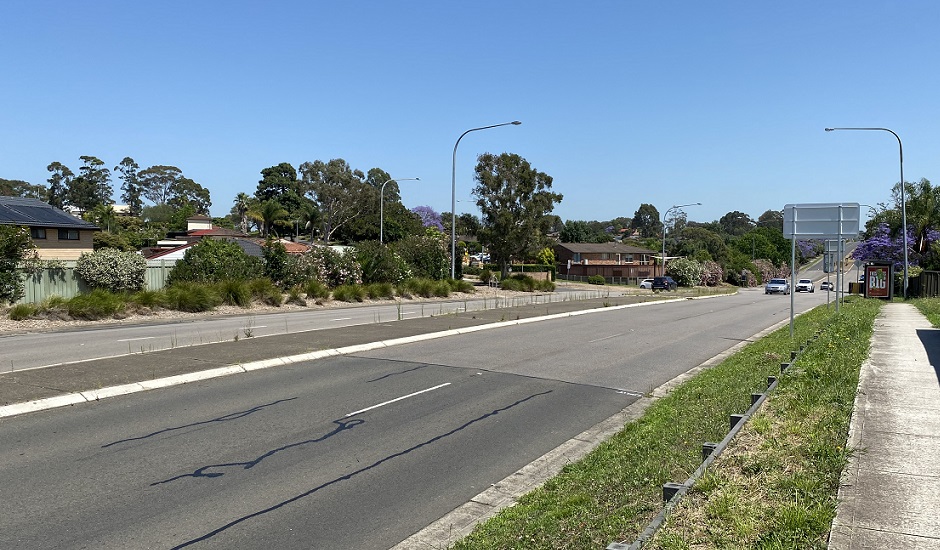 "These upgrades will ensure more efficient and safer traffic flow on a road which has become an important connection for many people across the region travelling to work via the Hume Highway," says Campbelltown mayor George Brticevic.
"This upgrade is another step in ensuring our local road network assists with access into and across our city and the greater Macarthur region, providing improved connection to the health, education and commercial services we have to offer," he said.
"New tree plantings on the corner of Raby Road and Eagle Vale Drive will also enhance the visual appeal of the area and reflect the pride residents have in their local community."
The upgrades were identified as part of a traffic, safety and scoping study conducted by council for the Raby Road precinct.
It was also funded by the Local Roads Package and responds to feedback received by council from the community about traffic congestion in key connections across Campbelltown.
The $7 million project is funded by the Federal Government's Western Sydney Infrastructure Plan which aims to support population growth and access across the region.
The upgrades are scheduled for completion by December next year.