Local children aspiring to be football stars will be able to kick goals well into the evening after the installation of LED floodlighting at Ron Dine Reserve at Camden South.
The six new light towers, installed at the home of National Premier League (NPL) NSW men's side Camden Tigers, increase the usage of fields three and four at the ground.
Camden Tigers president Rod Ciantar says the new additions were a monumental step for the growing club.
"These lights are important because of simply the growing number of players we have,'' he said.
"It gives us more training facilities for our NPL teams and for our local players," Mr Ciantar said.
"It gives us another field to play a midweek game on. Now we will have three fields which are lit up midweek, so this is a massive thing for our club.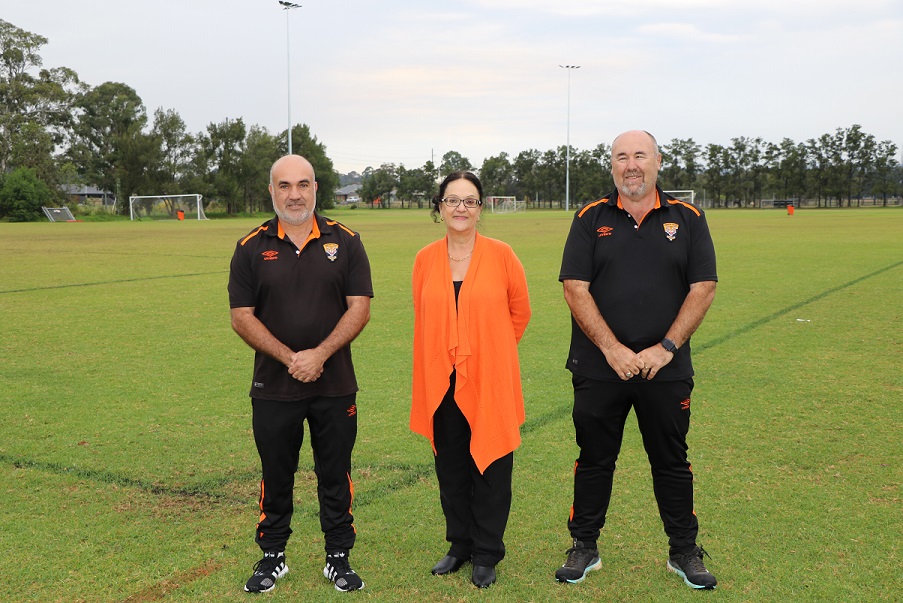 "The club is aiming to move into the NPL women's competitions next year so we are a growing club, which should have nearly 400 representative players next year and are the only club in Camden that is in the NPL competitions."
The new lights were funded through a successful $101,000 grant from the NSW Government's Office of Responsible Gambling Infrastructure program, with Camden Council matching the contribution.
Mayor Theresa Fedeli says it's important for council to continue improving existing facilities.
"Council is focused on both delivering new, high quality sport and recreation facilities for our growing community while also improving our existing facilities," Cr Fedeli said.
"Camden Tigers provide local players the chance to play representative football and the addition of the new floodlights will allow them to train, play and refine their skills even more.
"This is a welcome addition to the club which is also celebrating its 60th anniversary this year. I thank the NSW Government for their contribution to the project and look forward to seeing players enjoying the facility over the coming years."