Dahua Group Australia has started construction on its $8.5 million Maxwell Creek Oval project in the company's New Breeze masterplanned community, located in Bardia.
Local family owned civil construction business TRN Group will undertake civil work for the project, which spans approximately 12,000 square metres.
Maxwell Creek Oval includes a large playing oval for cricket and two full sized fields for rugby league and soccer pursuits, nature based play area, flying fox, swings and slides, picnic area, shaded barbecue precinct, swing, climbing equipment and an amenities building servicing the sports facilities.
"TRN was awarded the civil infrastructure and subdivision works for all stages within New Breeze,'' says Paddy O'Donoghue, development manager at Dahua.
"They have done an excellent job in helping bring our first masterplanned project in Sydney to life and were an obvious choice to continue with the Maxwell Creek Oval precinct,'' he said.
"Dahua has helped stimulate the local economy by creating many construction jobs for local businesses in New Breeze.
"Partnerships have been formed with recognized professionals within the local market to deliver Dahua's vision to create a thriving, livable community.
"Maxwell Creek Oval, designed by landscape architects Place Design Group, completes the green network in New Breeze, linking pedestrians and cyclists with sport and recreational facilities."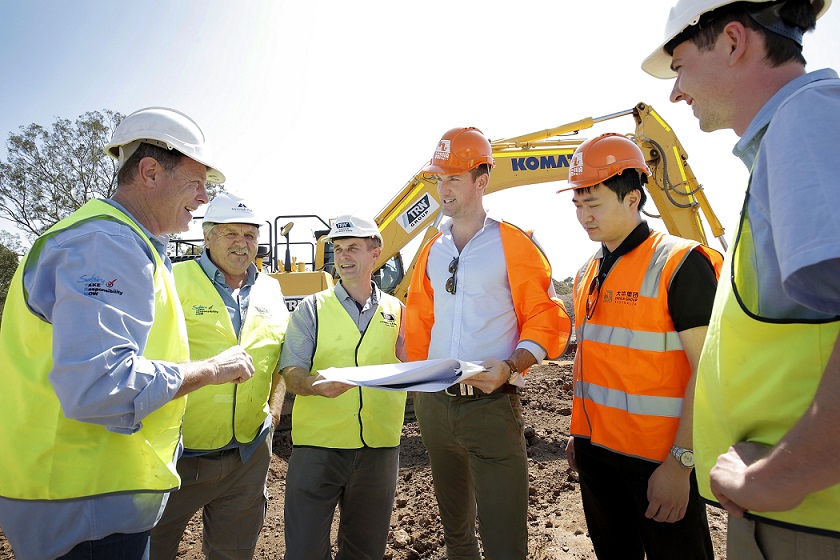 Glenn Fordham, TRN director and general manager of projects, says the company has been operating in the South West Sydney region for more than 50 years.
"In that time it has delivered several masterplanned communities, integrating sports and recreational precincts,'' Mr Fordham said.
"New Breeze is our first project with Dahua.
"We have built a mutually respectful relationship with a focus on local job creation.
"Hundreds of sub contractors and suppliers have already been employed in New Breeze with many more to be appointed for the remaining civil work.
"The South West growth corridor is currently the engine room for Sydney's expansion and we intend to continue playing a major role in helping build the area."
New Breeze spans across 89 hectares and will comprise 1,300 homes when completed.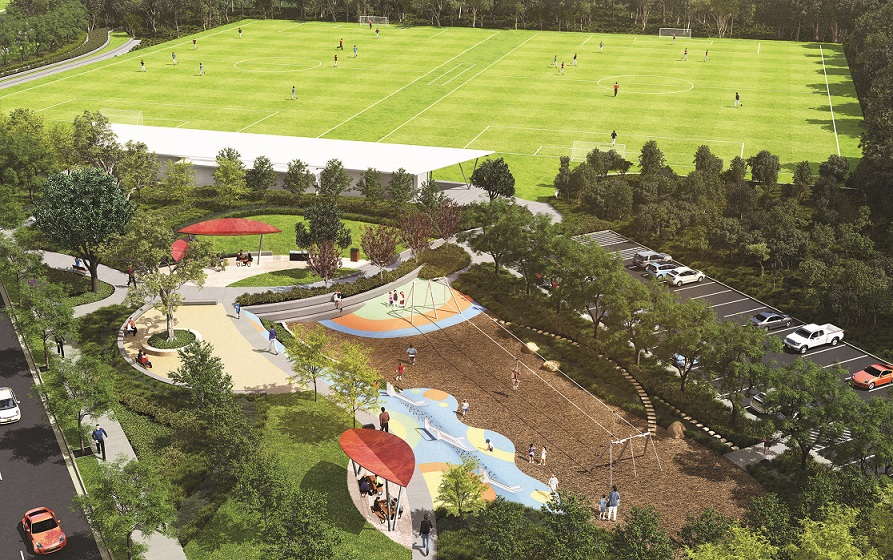 The development will include large high quality parks and playgrounds, a sports oval, bike and cycle paths and 40 hectares of open spaces for recreational activities.
Completion is expected in mid-2020 for Ingleburn Park and the Northern Corridor, valued at approximately $3.5 million, which links with Maxwell Creek Oval.
Ingleburn Park, comprising over 4,000 square metres, will be an active recreational space featuring a custom designed climbing wall, play equipment including a climbing net and slides, as well as shelter and seating.
The Northern Corridor spans 20,000 square metres and will act as a passive and active recreational precinct with open multi- unction green spaces, footpaths, cycleways and shelters. They will be intertwined with landscaping which includes native plants and shade trees.
Completion of Maxwell Creek Oval is expected late 2020.
Land lot sizes in New Breeze start at 200 square metres with prices from $329,900.
All of the lots are positioned within walking distance to sports and recreational facilities.
The sales office is located at 77 Bardia Avenue, Bardia. For further information and to register your interest in New Breeze visit www.newbreeze.com.au or call 1300 832 482.