A brand new shelter under construction in the Hurley Street commuter drop off area at Campbelltown Station is an example of how some things do get bigger and better as time goes on. The shelter will have a 16 metre awning and offer seating for 20 people as well as four extra accessible spaces.
The shelter, which is being built next to the existing one, will have solar powered LED lighting and a fully glazed back panel to protect commuters from the wind and rain. The existing shelter will also be upgraded to ensure both shelters have a similar look and feel to them.
However the new shelter has been designed so that future electronic display panels can be integrated to allow for either community notices or advertising.
As part of stage two of the Campbelltown Council project, an awning will be installed from the existing shelter to the bottom of the stairs leading up from the bus interchange area.
This awning will feature a multi coloured translucent roof shelter as well as led lighting, as seen in the image below.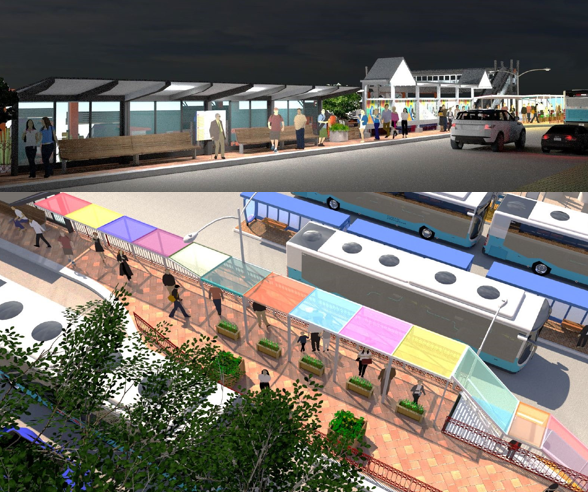 The work is expected to be completed by the end of September.
Council also recently completed an upgrade of the electronic display in the busy bus shelter on Queen Street opposite Mawson Park.
This new display is brighter and allows for far greater clarity in the display.
The original electronic display from the shelter has been upgraded and has been installed in the pedestrian underpass under Hurley Street.
Being in a darker environment and catering for people walking towards the display will also provide the same level of message clarity.
Council staff manage and update the content on these displays.