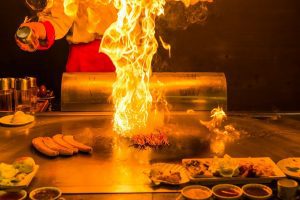 Did you know that Macarthur is now home to the largest teppanyaki bar in Sydney?
It's called Sasuki and this Japanese restaurant is part of the bigger Narellan Town Centre.
Sasuki opened a month before Christmas on November 246, and has since served a large number of guests who have wanted to enjoy the Teppanyaki experience right here in the Macarthur region.
Teppanyaki is a Japanese cuisine that uses an iron griddle to cook food, and visitors to the restaurant are treated with an impressive exhibition of culinary theatre as the chefs demonstrate their skills.
The restaurant also features a bespoke or custom made sushi bar and  function room.
Owner Jim Chohaili is a Narellan local who was inspired to create the restaurant after visiting friends in Japan and experiencing authentic Japanese fare.
"The idea of having your meals cooked right in front of you and eating your food fresh off the grill is an amazing experience," Chohaili said.
[social_quote duplicate="no" align="default"]"Our chefs really know how to put on a show!"[/social_quote]
Chohaili is joined by head chef Hideaki Fukada from the Kanto region in Japan, who has worked in restaurants in the Sydney CBD and brings with him a wealth of knowledge and culture.
The menu features an array of contemporary and traditional Japanese dishes, using seasonal and local ingredients.
"With the rate in which the area is growing, we really need to ensure we can offer our locals a variety of quality dining experiences without having to travel," Chohaili said.
The restaurant is located on the ground floor of the Narellan Town Centre's new restaurant precinct and is open seven days for lunch and dinner.
For more information or to make a reservation, visit the website here or call 4647 2628.