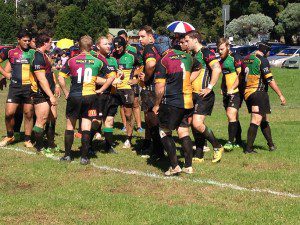 The Illawarra rugby premiership is over for another season but for the Campbelltown Harlequins there's still some big on field action to come between now and Christmas.
On November 14, the Quinnies will host at Campbelltown Showground the Fisher's Ghost Atlas Copco International Rugby Sevens.
Harlequins will field a team as well as being the hosts in what will be one of the highlights of Campbelltown's world famous annual festival named after Fred Fisher's ghost.
Harlequins were knocked out of the 2015 Illawarra premiership in the elimination semi final, when they were defeated 16-11 by Kiama in a very close affair.
But it was a remarkable effort to get that far, considering the massive injury toll that hit the Quins in season 2015 – especially in the forwards.
The club finished fourth at the end of the home and away season, a very good effort.
The Harlequins U20 Colts got through to last weekend's grand final, where they succumbed to University 31-14.
Camden kept the Macarthur rugby flag flying high when they took out the second grade Illawarra premiership by beating Avondale 20-15 in the grand final.
Not that Campbelltown ended the season without any higher honours in first grade: skipper Andrew Choice was named Illawarra District Rugby Union Player of the year.
Choice was presented with his award at the 2015 Grand Final dinner held last Wednesday night.
Choice was also announced as the highest point scorer for the season.
Harlequin fans will now be asked to support their club's next big event, the Fishers Ghost Atlas Copco International Rugby Sevens on Saturday, November 14.
The Sevens will get under way from 10am and there will be teams competing from Fiji, New Zealand,
NSW Country, ACT, Sydney and the Illawarra.
There will be a 16 team men's competition, which will be hotly contested by such teams as Red
Rock Rugby (Fiji), last years winner Te Whanau, the Manly Marlins, Brumbies Rugby, Tribe 7
and of course home team the Harlequins, among others.
There will be a 10 team women's competition also sporting club names such as Tribe 7s,
Sydney University, Brumbies Rugby, Manley Mermaids and Fi Ta Oz Boks.
Harlequins will also field a women's side.
WHAT: Fishers Ghost Atlas Copco International Rugby Sevens;
WHEN: 10am Saturday, November 14;
WHERE: Campbelltown Showground, King Street, Campbelltown