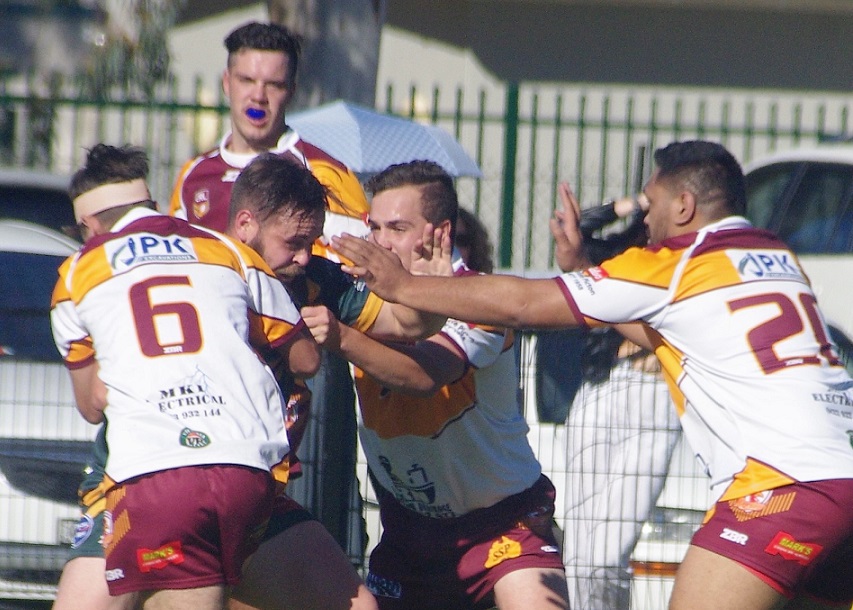 Oakdale Workers have come from behind to defeat Campbelltown City 24-22 at Sid Sharpe Oval as round 5 produced another weekend of twists and turns.
The loss leaves the Kangaroos in search of their first win in 2019, which can't be too far away given the effort is there from the boys from Campbelltown. Their next match is at home where they will host last year's premiers Picton Magpies.
In other results, The Oaks Tigers defeated Narellan Jets 30-16 at Crane Oval, while Camden Rams continued their winning ways with a 26-8 victory over Moss Vale Dragons 26-8 at Community Oval.
Rugby league correspondent MIKE SHEAN reports from Thirlmere Sportsground where the Roosters held off a fast-finishing Mittagong Lions outfit to win 36-26.
The Roosters completely dominated the first half, skipping out to a 30-0 lead, before the Lions mounted a comeback that eventually fell short.
Thirlmere didn't wait long to open the scoring, with five-eighth Dayne Craig bagging a try four minutes in.
Shortly after Jacob Loko crashed over from close range, extending the lead to 12-0, and the signs were ominous for the Lions supporters.
Jake Mullaney added his name to the list on 20 minutes, with a slashing solo try, leaving several Mittagong players in his wake as the home side continued on their merry way to a 24-0 lead.
Josh Bryant scored on the stroke of halftime to extend the lead to 30-0 and it appeared as though it would be a case of by how much for the Roosters.
The NRL "magic round'' was more than 1,000 kilometres away in Brisbane, but coach Dan Beardshaw must have worked some magic of his own in the Mittagong rooms at the break.
The Lions came out firing and when Geoff McKeown scored just after play resumed it gave them hope it wasn't all over yet at 30-6.
Rory MacDonald, who scored a double in the half off the bench, got his first 12 minutes into the second term, and at 30-10, with plenty of time remaining, Mittagong was gaining some momentum.
Thirlmere scored their final try at the hour mark, when Josh Bryant bagged his second of the day to extend the lead at 36-10.
MacDonald got his second try of the day with 15 minutes left, and there was plenty of tension around Thirlmere Sportsground as the Roosters' fans became a little worried while Lions fans were starting to believe they were a chance.
PJ Thornton, who was damaging for the majority of the day in the second row, scored an easy try minutes later, and at 36-22, the home fans became even more restless.
Ben Powell added his name to the scoring sheet with 6 minutes left, and at 36-26 both sets of fans began looking at the scoreboard and the clock.
Thirlmere did enough in the final minutes to get the win, although captain coach Jake Mullaney and assistant David Greene would have been relieved more than anything at the final siren.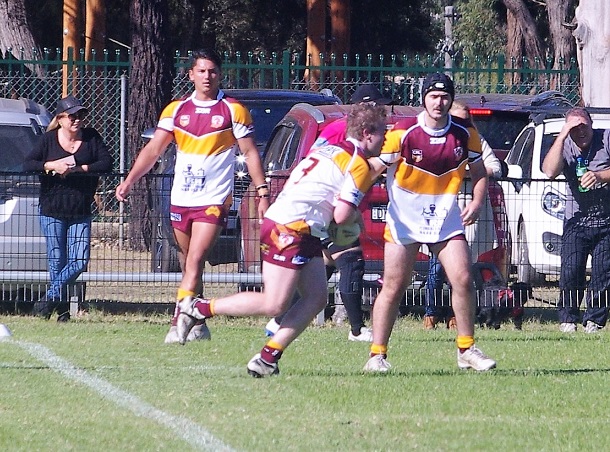 RESULTS – ROUND 5 – FIRST GRADE
Moss Vale Dragons 8 Camden Rams 26;
Narellan Jets 16 The Oaks Tigers 30;
Oakdale Workers 24 Campbelltown City 22;
Thirlmere Roosters 36 Mittagong Lions 26.
LADDER: Camden, Thirlmere 10; The Oaks, Picton 6; Mittagong, Moss Vale, Oakdale, Narellan 4; Campbelltown 2.
RESERVE GRADE
Moss Vale 0 Camden 60;
Narellan 16 The Oaks 22;
Oakdale 0 Camden 84;
Thirlmere 38 Mittagong 22.
UNDER 18
Moss Vale 4 Camden 86;
Narellan Jets 36 Mt Annan Oakdale Knights 8;
Thirlmere 22 Mittagong 18.
WOMEN'S LEAGUE
Moss Vale 0 Camden 48;
Thirlmere 0 Picton 24.
LEAGUE TAG
Camden 28 City Gold 8;
Narellan Blue 48 The Oaks 0;
Narellan White 28 Mittagong 0;
Oakdale 12 City Blue 18.
SECOND DIVISION
Picton Magpies 18 Warragamba Wombats 18;
Bargo Bunnies 34 Oran Park Chargers 32;
Thirlmere Roosters 16 Bowral Blues 28.
NEXT WEEK – ROUND 6, SUNDAY 2.30PM
Campbelltown City v Picton;
Camden v Oakdale;
Mittagong v Narellan;
Thirlmere v Moss Vale