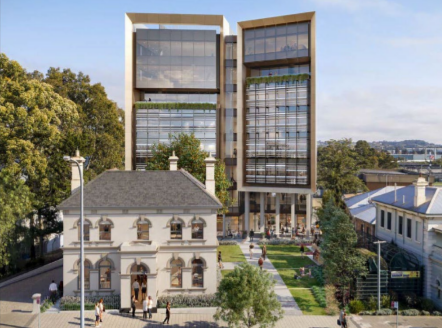 An application has been lodged with Campbelltown Council for the restoration of the heritage listed CBC Bank building at 263 Queen Street and the construction of an eight storey commercial building at the rear as part of a $33 million development.
The application also seeks permission for the demolition of the existing commercial building behind the CBC Bank building and basement car parking underneath the proposed eight storey structure.
The site was the subject of a previous development application for a mostly residential tower that was refused by the Sydney Western City Planning Panel.
The proponent appealed the decision in the Land and Environment Court, but was unsuccessful.
The latest proposal involves the restoration of the former CBC Bank building to its original configuration, including demolition of a 1950s addition to the building.
The proposed building would include almost 6,000 square metres of office space and 75 square metres of ground floor retail floor space, and two levels of basement car parking containing 22 car spaces, 54 bike spaces and end-of-trip facilities.
Due to the value of works proposed exceeding $30 million, the consent authority for the application is the Sydney Western City Planning Panel.
xxxxx
In September, council received an application for the construction of a $11.9 million senior's living development between Karingal Place and Creigan Road in Bradbury.
The proposal is for 31 independent living units and 31 parking spaces, communal gardens and living areas, bicycle parking and storage areas.
Sydney Western City Regional Panel will determine this development application.