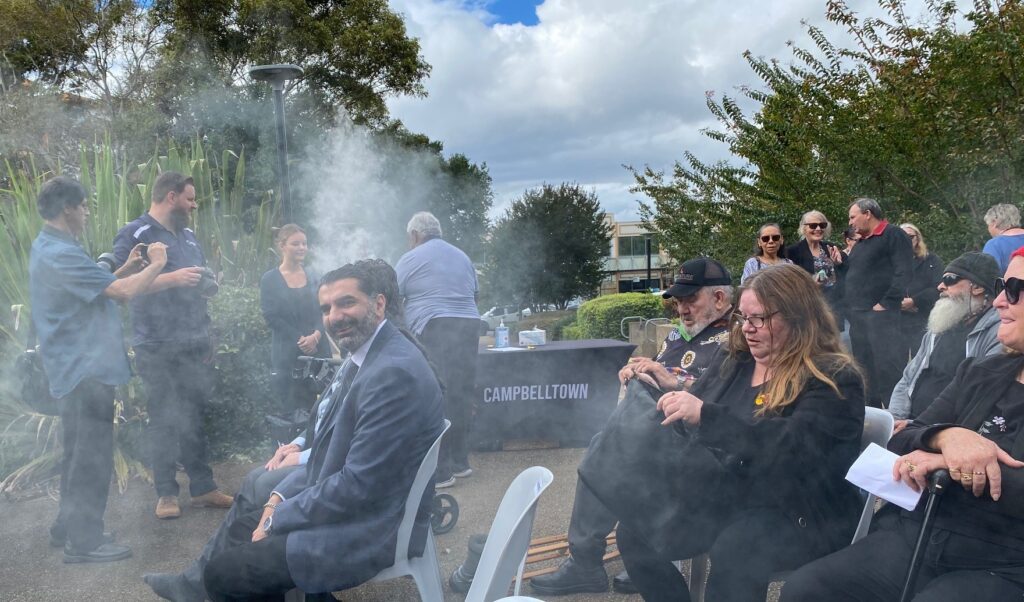 Campbelltown has become one of the first councils in Sydney to develop a resilience hazard assessment document.
The aim is to be able to better measure the resilience of the city and respond to continued growth.
Councillors endorsed the Toward A Thriving City: Our Resilience Hazard Assessment at the last council meeting.
The assessment identifies the shocks and stresses Campbelltown is most vulnerable to and the actions that council can take to place the community in a better position to plan for and manage these disruptions.
"Throughout the Covid-19 pandemic and in the face of fire and floods, our community has demonstrated its robust resilience, but there is always more that can be done to help us all prepare for difficult times," says Mayor George Greiss, pictured during a recent smoking ceremony
"The resilience hazard assessment identifies the need to strengthen and build on the many partnerships formed during that period to address future shocks as well as deal with those chronic stresses that affect our community," Cr Greiss said.
"Many of the findings in the assessment were used to inform Council's Covid-19 response and we have since taken many of the learnings from that situation and applied them in our practices going forward," he said.
The assessment document features a range of portraits painted by artist Emmanuel Asante, of 10 residents, each with their own story of resilience and bouncing back from adversity.
The portraits were displayed at Campbelltown Arts Centre and later gifted to the portrait sitters.
xxxxx
In other council news, Campbelltown residents are being encouraged to think about what is going into their recycling and garden bins on collection day to ensure their waste is in the right bin.
Council's resource recovery engagement officers will soon start the first phase of a bin inspection program to identify items that don't belong in recycling and garden waste bins.
Phase one of the program will be carried out over the next few months, where inspectors will be tagging bins that contain incorrect items and providing information to help clarify what can go in the different bins, and what can't. Bins will still be emptied on regular collection days.
During the second phase of the program, bins that are found to contain the wrong items will be stickered and not emptied. Residents will then need to remove the incorrect items before the bin is emptied. The community will be informed before the start of this phase.
Common items that are incorrectly placed in recycling bins include soft plastics, bagged items, used tissues and paper towels and food waste.
Items that are incorrectly placed in garden waste bins include food waste, paper waste and general household waste.