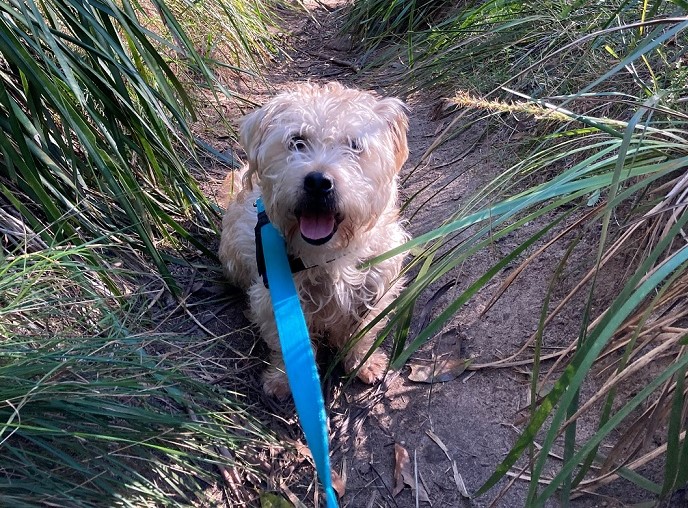 Nancy Mills, who adopted Murphy, a male terrier cross, from Camden's animal care facility, says it's "awesome'' to rescue a dog – and to give them a good life.
Ms Mills said she has worked hard to provide love and care to Murphy, which she suspected he did not receive prior to his adoption.
"The first dog that I adopted was around 15 years ago, with Murphy being my third rescue dog,'' she said.
"I had been looking for a new dog for a little while and I came across Murphy. I immediately thought that he is the right size for me, and I was in Camden the next afternoon to adopt," Ms Mills said.
"Murphy was reactive to everything when we first adopted him, whether it was cars driving past or other dogs, he would never sit still. It has taken a while and a lot of patience, but he is doing really, really well now.
"The thing to note with rescue dogs, is that they just need a good home.
"I think it's so important for children to understand how awesome it is to save a dog and give them a good life.''
After lots of hard work and training, Murphy raised over $600 for the fundraising event Pawgust – not a bad effort considering he had never walked on a lead prior to his adoption.
"My advice to anyone who is considering adopting a dog would be to go and meet the dog,'' says Ms Mills.
"You never know what the dog has gone through before and it's going to be a work in progress, but as long as you invest time in the dog, it will learn to trust you and work with you."
Camden Council Animal Care Facility is located in Rossmore, where all lost, stray or surrendered companion animals from the area are temporarily cared for until they can find their forever home.
The facility is open seven days a week and cares for both cats and dogs.
For more information on pet adoption, visit camden.nsw.gov.au/pets/adopt-a-pet/