Women and children fleeing from domestic violence are gradually getting more of a helping hand from the rest of us.
But the demand for crisis accommodation is still very high and each night more than one in two women are turned away due to limited spaces.
That's why every little bit helps, especially the addition of new shelters to the system.
Here in our region, a new shelter will become available in Camden later this year for women seeking refuge from domestic violence.
The new shelter is part of the Porchlight Program run by Blue Wren House – Camden Women's Shelter Inc.
It will feature a refurbished three-bedroom cottage as well as a brand new two-bedroom second dwelling that will provide safe, supported accommodation for five women escaping domestic violence or homelessness – and their children.
But the good news gets even better: Wests Group Macarthur has come on board as the first official partner of the Porchlight Program in a three year commitment.
Wests Group Macarthur will provide $20,000 a year for three years to the Porchlight Program, securing the running of the shelter during this period.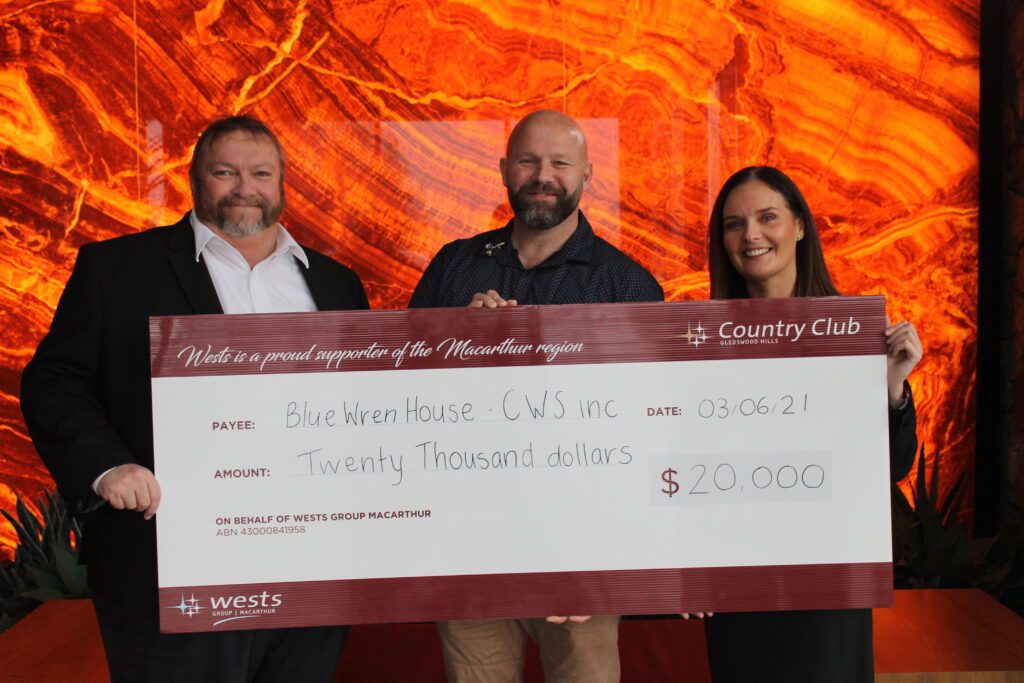 Aside from the food and accommodation expenses, the Wests Group funding, delivered via Clubgrants, will go towards caseworker management, medical, legal, educational, and other crucial support programs needed for the women and children to start anew.
"The funds will make a huge difference to the lives of countless number of people relying on shelter services,'' says Scott Taylor, chair of Blue Wren House – Camden Women's Shelter Inc.
"The board is so grateful for the incredible generosity of Wests which helps guarantee we can keep the welcoming porchlight lit and deliver the comfort and security to those escaping desperate or domestic violence situations.
"A commitment of this amount translates to covering a portion of the funding required for our vital case workers who will help with women and potentially up to 60 children across the three-year period.''
Wests Group Macarthur executive team member Leanne Craig said Wests were honoured to be an early supporter of the Porchlight Program.
"This is an incredibly worthy cause, and we feel very strongly about the impact the program will offer to those most vulnerable,'' Ms Craig said.
Blue Wren House – Camden Women's Shelter Inc are currently seeking the support of local businesses, trades people and suppliers to assist in the finishing touches to the restoration and opening of the shelter.
If you know a business that might be interested in being involved, please visit www.camdenwomensshelter.org.au.