Flooding from last weekend's heavy rain once again caused substantial damage to shops and homes in the Picton town centre area. Damage from the rains was not confined to Picton, with roads and other infrastructure hit across the Wollondilly Shire.
Wollondilly Council swung into action on all fronts, leading the clean up and repair operation, which is still ongoing.
But questions are being asked about Picton town itself and how much flood mitigation work was carried out since the devastating floods of 2016.
Four years ago the town's shopping precinct was almost wiped out in the biggest flood in more than 170 years.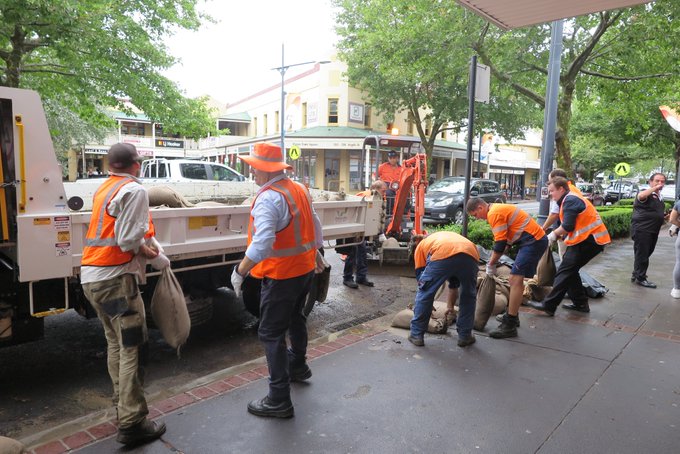 In the aftermath, promises were made, including at last year's NSW election, of effective flood mitigation work in Picton.
Liberal candidate Nathaniel Smith, who won the election, started a petition promising to have Stonequarry Creek cleaned up and to get funding for the construction of a two to three-metre wide pathway from the Botanical Gardens towards Maldon running alongside Stonequarry Creek.
One of his election opponents was former mayor Judy Hannan, running as a high profile independent against the major party machines.
"I lost votes over this in the election as Nat and the NSW treasurer said they were going to stop it flooding ever again, and had a petition,'' says Councillor Hannan.
"If something could have been done I would have promised it during the election, as others did.
"I would not promise something that can't be delivered.''
She says that the reality is Picton will always flood, no matter what.
"Picton is a basin with a narrow old viaduct at one end – never should have had a town centre there, but can't change now,'' she says.
Cr Hannan, who says she will "more than likely'' run for Wollondilly Council in September, believes all that could be done was done after the 2016 flood.
"Loads was done and loads of investigations as well,'' she says.
"Much of the banks have been cleaned up but they can't be cleared as the banks would not be stable.
"Considering how much water fell over two days, Picton did well this time around,'' Cr Hannan said.
The weekend's floods came while Wollondilly was still recovering from bush fires before Christmas, making it a double whammy this summer.
Disaster assistance has been made available to help people and businesses heavily impacted by the storms and flooding in the Camden, Wollondilly and Wingecarribee local government areas.
If you are uninsured and have low income, for information on personal hardship and distress assistance, please contact the Disaster Welfare Assistance Line on 1800 018 444. To apply for a concessional loan or grant, contact the NSW Rural Assistance Authority on 1800 678 593 or visit www.raa.nsw.gov.au
Further information on disaster assistance is available on the Australian Government's Disaster Assist website at www.disasterassist.gov.au and the NSW emergency information and response website at www.emergency.nsw.gov.au