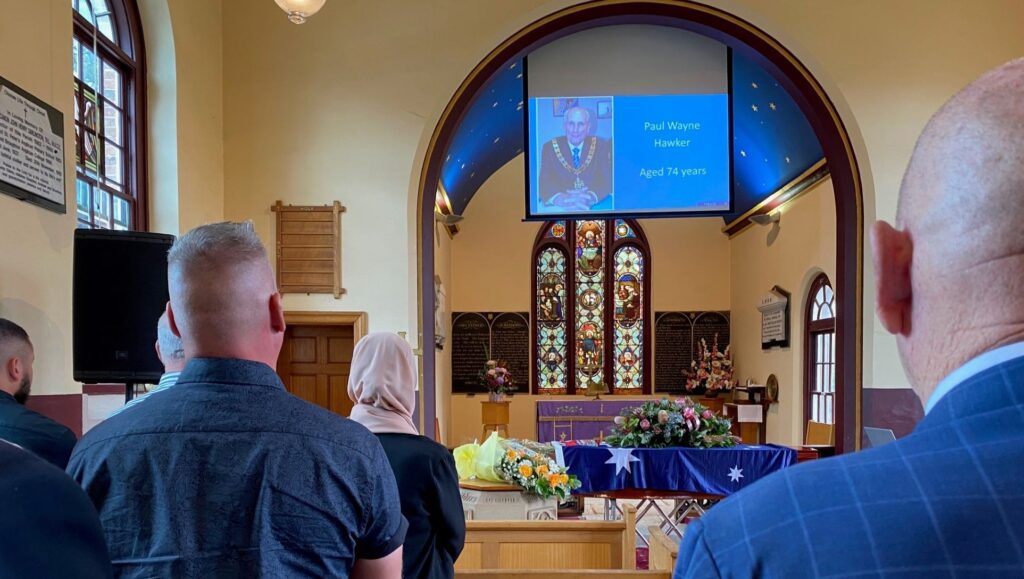 There is a time for everything,
And a season for every activity;
A time to be born and a time to die,
A time to plant and a time to uproot,
A time to kill and a time to heal,
A time to tear down and a time to build,
A time to weep and a time to laugh
Whoever thought to include the evocative and profound words of Ecclesiastes 3:1-14 as the Bible reading at the funeral service for Paul Hawker yesterday in St Peter's Anglican Church Campbelltown obviously knew him very, very well.
My guess is it was Sigrid, his wonderful wife of 45 years, but it doesn't really matter.
What does matter is that these beautiful words from the Bible perfectly capture the essence of the former mayor of Campbelltown.
Indeed, this fact that Paul Hawker was someone who had been everywhere and done just about everything resonated strongly in eulogies by two Aarons, his eldest son, and Rule, another former Campbelltown mayor.
"It was incredible; he knew so many people in so many places,'' Aaron Hawker said of his late father.
However, the Bible reading also reminded us of a little known fact, that Paul Hawker had a strong connection with his Anglican faith and indeed was a lay preacher.
He just didn't talk too much about it, that's all.
Ecclesiastes continues with these lines:
A time to mourn and a time to dance,
A time to scatter stones and a time to gather them,
A time to embrace and a time to refrain from embracing,
A time to search and a time to give up,
A time to keep and a time to throw away
Paul Hawker, who was 74 when he lost his battle with brain cancer, was born in Queensland, and he never forgot that, especially at State of Origin time.
He spent most of his adult life in the Blue state of NSW, and Campbelltown in particularly.
He enlisted in the Australian Army and retired as a Major after serving with distinction, including a 381 day tour of Vietnam during that wretched conflict.
Honouring that service, Ray James, the current president of the NSW RSL, along with the president of the Ingleburn sub-branch, Graham Toll, led a procession of veterans to the casket carrying the mortal remains of Paul Hawker.
Each of the veterans gently placed a poppy on the casket and in an orderly manner returned to their seats.
As part of the military contribution to Paul Hawker's final farewell the Last Post was performed on the big screen, while everyone present joined in to utter the immortal words of the Anzac tribute, We Will Remember Them.
Paul Hawker's rich life included a huge contribution to the local service clubs, including the Lions and Rotary.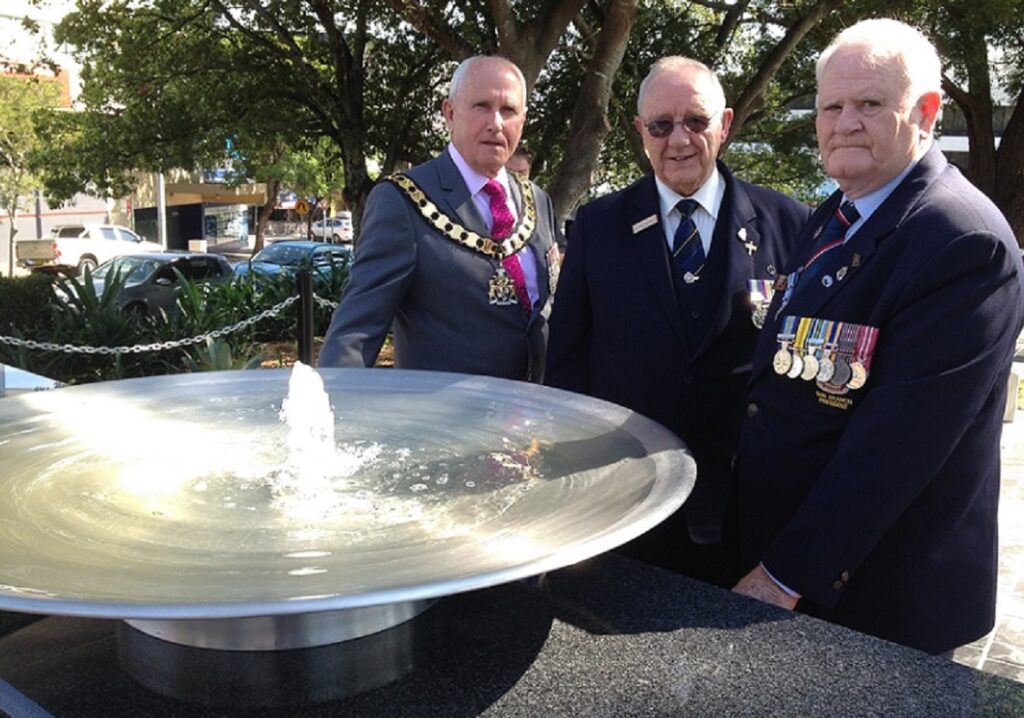 Just before he was diagnosed with cancer he accepted the position of yet another community group, the Macarthur Greeks.
And of course there was politics, especially in local government.
The presence of so many politicians, current and past, from Liberal and Labor, at yesterday's service was testament to the respect Paul Hawker was held in that dog-eat-dog pursuit we also sometimes call democracy.
Former Liberal MPs Russell Matheson and Charlie Lynn were there, as were Labor's Anoulack Chanthivong and of course Aaron Rule, plus a smattering of current Campbelltown councillors and directors, as well as current Liberal mayor George Greiss.
Before proceeding to some of the tributes for him, let's see what the final few lines of Ecclesiastes have to say about the life and times of Paul Hawker:
A time to tear and a time to mend,
A time to be silent and a time to speak,
A time to love and a time to hate,
A time for war and a time for peace.
"Paul was there when I first got elected to council and he had a chat to me after I swore on council, telling me I was the first person to do so and get away with it,'' recalled current mayor George Greiss at the wake in Campbelltown arts centre.
"The first thing that comes to mind about Paul was that he had a heart of gold.
"He had his own way, but made sure he looked after people, explained himself, tried to educate them wherever possible, and that's something I was grateful for, to get another perspective on life.
"In the Liberal Party, Paul and I had a lot of open and frank discussions and that's one of the key things to democracy.
"And that's what makes the Liberal Party a good place to be – we can have an open and frank discussion, we can have differences of opinion, and at the end of the day we'll go in there and do what's best for the community.
"Paul put Campbelltown ahead of his own interests and the people of Campbelltown are enjoying the benefit of the things that he did,'' the mayor said.
Former independent councillor Paul Lake agrees: "One of the first things he wanted to do when he became mayor was ease the financial burden on local pensioners and pushed for an extra $50 in the rates rebate for them.
"He was excellent to work with, professional, he had a sense of humour and a love for Campbelltown,'' says Lake.
"He seemed to know a lot of things – you'd bring something up and he always knew about it.''
In his eulogy, former Labor mayor Aaron Rule said most people who knew him would agree that Paul Hawker was a bit of a rough diamond at times.
"He called a spade a spade, but it was never personal.
"He was on council for 12 years and served one term as mayor, an impressive record in anybody's language,'' Rule said.
"As mayor he put every ounce of energy he had into the job and upheld the highest levels of integrity – he was an excellent mayor.''
Paul Hawker's family have lost a loving father, a grandfather and a husband, while Campbelltown has lost yet another of its great community leaders. And his friends have lost one of the best mates anyone could find. RIP, mate.
Paul Wayne Hawker: September 25, 1947 – March 21, 2022.