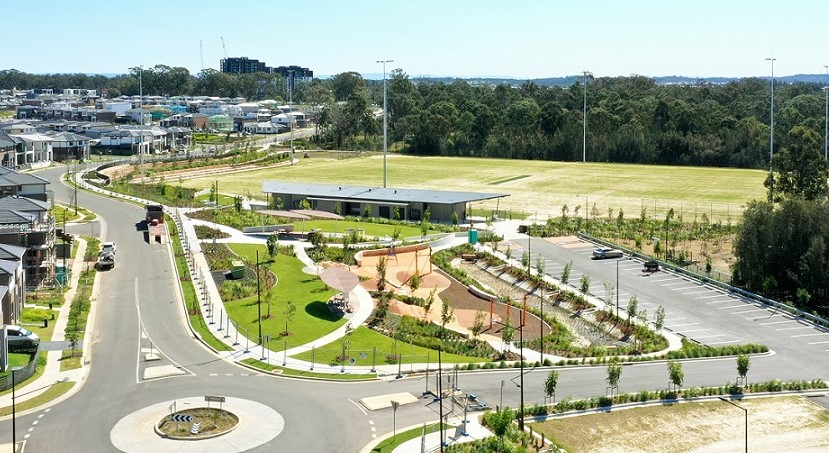 Developer Dahua Group Australia has completed the company's final and highly prized community facility – the $10 million Maxwell Creek Oval precinct in New Breeze, Bardia.
Maxwell Creek Oval's precinct, spanning approximately 40,000 square metres is part of a green network and 19 hectares of open spaces that envelopes the master planned community located between Liverpool and Campbelltown.
A large playing oval for cricket and two full-sized fields for rugby league and soccer pursuits, nature-based play area, flying fox, swings and slides, climbing equipment, a shaded barbecue precinct, and an amenities building servicing the sports facilities are some of the features.
"Maxwell Creek Oval's precinct is New Breeze's jewel in the crown and completes over $27 million invested in high quality recreational amenities,'' says Eric Li, chief executive officer of Dahua (NSW and Queensland).
"Place Design Group played an important role in designing a network of community facilities that intertwine and link with housing infrastructure, green open spaces and native bushland.
"The precinct will become a focal meeting point for residents to exercise, meet new friends and local sports associations to train,'' he said.
"Encouraging an active lifestyle was a cornerstone of New Breeze's design to promote conversations amongst residents.
"Wide open spaces in an outdoors environment, now more than ever is an integral part of any functional community and helps foster healthier, happier residents."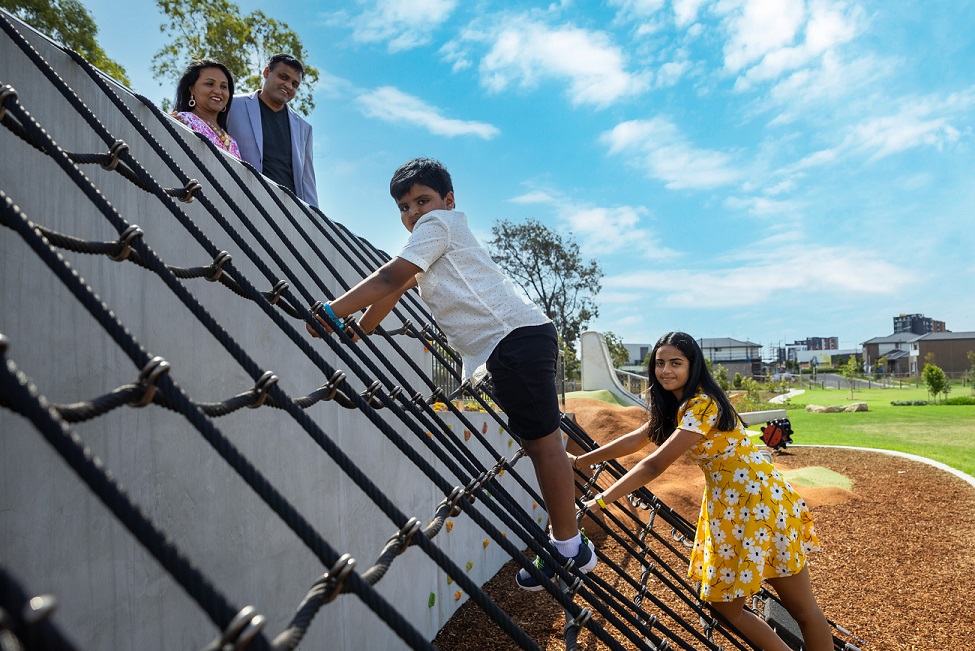 Nick Ison, director at Place Design Group said "Maxwell Creek Oval's precinct was a standout community sporting facility within New Breeze at Bardia.
"Throughout the design process, consideration was not only given to those who play sport, but the large majority of the community who will utilise the precinct as a parkland or extension of their own backyards,'' he said.
"This has been achieved by providing areas surrounding the sports field for people to sit and relax, a pathway connecting the play space to the sports precinct and strategic placement of club rooms in the middle of the park.
"Natural sandstone logs, multiple levels of lush planting, seating and pathways are provided for people to watch games being played.
"The park incorporates an interpretive signage element which pays homage to the military training ground history of the area and an educational role.
"The play space offers an area for the community to separate from the sporting action, with a barbecue and picnic area, enabling casual recreation with family and friends."
Ingleburn Park and the Northern Corridor are also connected to Maxwell Creek Oval.
Ingleburn Park, comprising over 4,000 sqm, is an active recreational space featuring a climbing wall, fireman poles, climbing net, slides, play equipment and shelter.
The Northern Corridor spans 20,000 sqm and acts as a passive and active recreational precinct with open multi-function green spaces, footpaths, cycleways and shelters. They are intertwined with landscaping, native plants and shade trees.
Spanning 89 hectares, New Breeze will have 1,280 new homes with a range of housing types to suit all lifestyles and budgets when completed in 2021.
The development features several large high-quality parks and playgrounds, sports ovals, cycle paths and 19 hectares of open spaces for recreational activities.
New Breeze is next to Bardia Public School and adjacent to Edmondson Park train station and Ed Square Town Centre.
For further information visit www.newbreeze.com.au or call 1300 832 482.