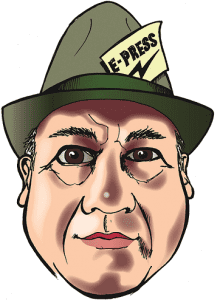 Just a few days ago, on the eve of the Wests Leagues Club 2015 annual general meeting, a woman announced she was a candidate for the board of directors.
This was not just any woman but the immediate past president of the Campbelltown chamber of commerce, Anne Parnham.
Ms Parnham created a bit of history by becoming the first ever woman to nominate for election to the Wests board.
Think about that for a moment: The first to nominate.
Ms Parnham, who runs the Campbelltown Lighting Centre at Blaxland Road, is our town's current candidate in the NSW woman of the year award, which will be announced on March 4.
This is what MP Bryan Doyle had to say about Anne Parnham after nominating her as Campbelltown woman of the year in the state awards:
"Anne has owned and run the Campbelltown Lighting Centre for 34 years and is highly regarded in the Campbelltown region.
"As the former president of the Campbelltown Chamber of Commerce, Anne reinvigorated the chamber during her tenure as president, making it a vibrant and effective chamber.
"She is a current Member of the NSW Business Chamber South West Regional Advisory Council.
"Anne is a talented, passionate local business woman who is deeply involved in her local community and a wonderful role model for women of all ages."
But someone who could soon be NSW Woman of the Year found out getting on the board at Wests Leagues is almost mission impossible.
It's fair enough that the board supported the two serving directors seeking re-election, Ray Corkery and Alan Buxton.
Boards everywhere do that all the time.
But surely Wests can see the benefit going forward for the club in having such a talented person as Anne Parnham, pictured, on the board of directors.

I personally know all the current directors, from the chairman Roy Warby, to his board deputy Ray Corkery.
Mr Warby got on the board in 1996, Mr Corkery nine years earlier in 1986.
Both good blokes.
Also on the board is Alan Buxton (since 2003), Martin Bullock (2007) and Paul Lake (2003), the current mayor of Campbelltown.
Another three terrific local fellows.
I don't know as well the remaining two directors, Stephen Stewart (2009) and Warren Thompson (2003) but I am sure they are honourable men as well.
As is the astute CEO Tony Mathew, who has also been at the helm of Wests for many years.
Wests isn't just the Leumeah Leagues club these days. It also owns Wests Tennis Club next door, Camden Valley Country Club and Camden Lakeside Country Club.
When you take out membership in one you get the whole lot, a pretty good deal. Including voting rights at annual general meetings if you have been a member for a minimum of three years.
But that's not what this is about and nor is it about gender, although with close to 50 per cent of Wests members being women you'd think having a woman on the board would be a no-brainer.
Indeed the Campbelltown Catholic Club has had a female board member since 2003 and apparently the sky hasn't fallen in for CEO Michael Lavorato.
Wests need to start realizing that the injection of talented people who wish to serve should be encouraged.
There were, I am told, 216 members from all of the Wests owned and operated clubs at the AGM, but hardly any of them would have had an idea who Anne was.
Why?
Because despite preparing a speech to let those members present find out a little about her, she wasn't allowed to make that speech.
I am told by club sources close to the board that candidates have been allowed to speak at previous AGMs.
She was also formally told she was not allowed to do any electioneering inside the club beforehand, which is fair enough.
At the vote there was no opportunity for Anne and a second candidate, a man, to provide their own scrutineers.
That is just not fair in the land of the fair go.
Anne ended up with 35 votes, with the directors seeking re-election getting close to 190 votes each. The fourth candidate got a handful of votes.
Now this may all be within the club rules, but it doesn't make it right.
All the candidates, including the serving directors, should have been given a few minutes to introduce themselves and to state their case for election.
We live in a country of free speech and that surely extends at elections to boards of our local clubs.