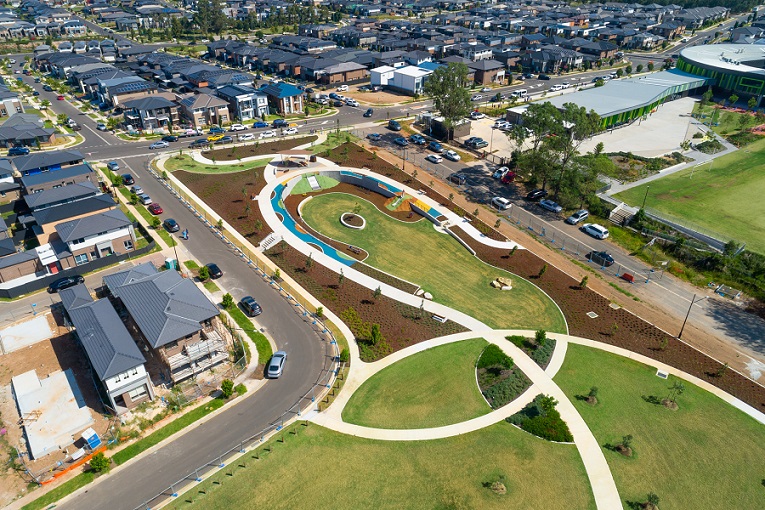 New Breeze in Edmondson Park – which has now been completed – was much more than just a new housing release.
Dahua Group Australia, the developer behind New Breeze, says it set a precedent in outer South Western Sydney by developing a range of high standard affordable small lot housing that appealed to a range of buyers including first home buyers, young families and investors.
Contemporary compact small dwellings were merged with traditional forms of terraces-inner-city workers cottages as well as homesteads on larger land parcels.
Localised place-making initiatives recognising the military context and future community through street names, parks, wayfinding and public art pay homage to the site, formerly Ingleburn Army Camp and named after Bardia Barracks.
Located at the epicentre of the South West growth corridor, New Breeze residents are benefiting from multi-billion investment from the private sector, state and federal government in infrastructure including Western Sydney International Airport, the creation of thousands of new jobs as well as upgraded and new community facilities in the region.
New Breeze was Dahua's first major project in NSW, another reason to ensure they got it right.
Spanning 89 hectares, New Breeze comprises more than 1,250 new homes.
High quality parks and interactive playgrounds, sports ovals, cycle paths and 40 hectares of open space envelopes the development to create a nature focused green corridor.
"Dahua has delivered its New Breeze vision to create a dream home and lifestyle that's accessible and affordable for all residents,'' says Eric Li, the chief executive officer of Dahua NSW and Queensland.
"Our collaborative partnership with Campbelltown City Council over the past five played an important role in helping the business achieve our vision.
"The master planned community was founded on three important design principles,'' he said.
"Connectivity and walkability to surrounding public transport including Edmondson Park train station, Bardia Public School and Ed Square Town Centre.
"Delivery of high quality community facilities and open spaces within a short walk to all homes.
"A range of affordable housing options and land parcels to support a growing community."
Mr Li said that enabling a broad spectrum of dwelling types for families was critical to the success of New Breeze.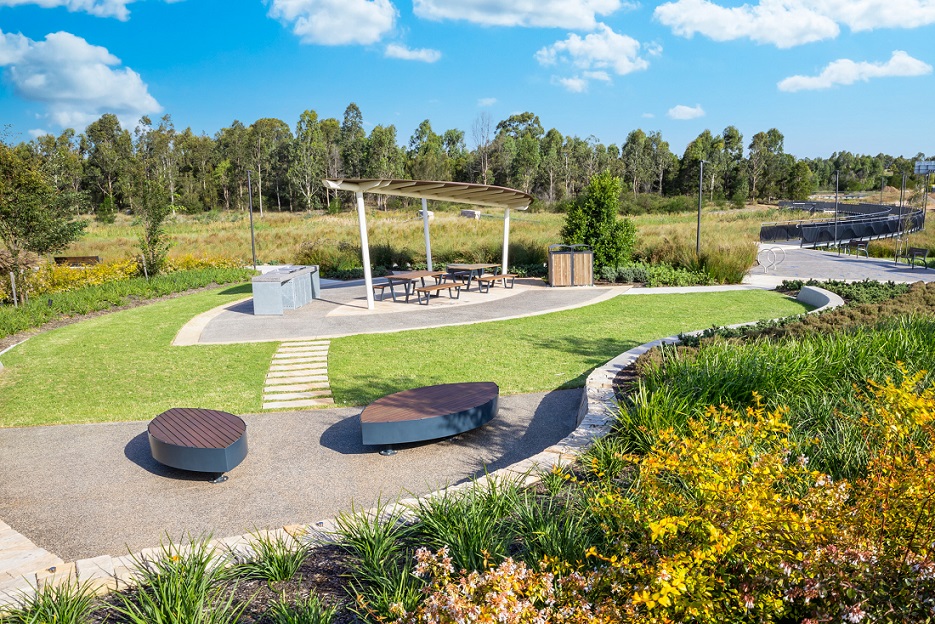 Place Design Group designed the 40-hectare green corridor to serve multiple purposes.
"Firstly, the corridor manages stormwater whilst re-introducing natural plant species from the area back into a consolidated spine,'' says Nick Ison, director at Place Design Group.
"Second and most importantly, this area provides a pleasing nature outlook for the adjacent residents and a pedestrian walking path which loops together with seating, gym equipment and shaded areas.
"They all seamlessly integrate with the recently completed Maxwell Creek Oval precinct and other amenities.
"Place Design Group developed, at key intervals, areas of activation for rest, exercise and viewing. The pathways take residents on a journey through the community whilst exposing heavily vegetated areas developed to manage stormwater sustainability and regenerate the natural vegetation.
"The green corridor continues to establish and is becoming the focal point in the development and a means of connecting residents with all the amenity, open spaces and community facilities that New Breeze has to offer."
Movement networks in New Breeze (shared and footpaths) were designed to maximise access and walkability to Edmondson Park train station, Ed Square Town Centre, Bardia Public School and the green corridor running through the development.
More than 10 new bus stops have been installed to ensure connectivity with the wider Sydney transport network.