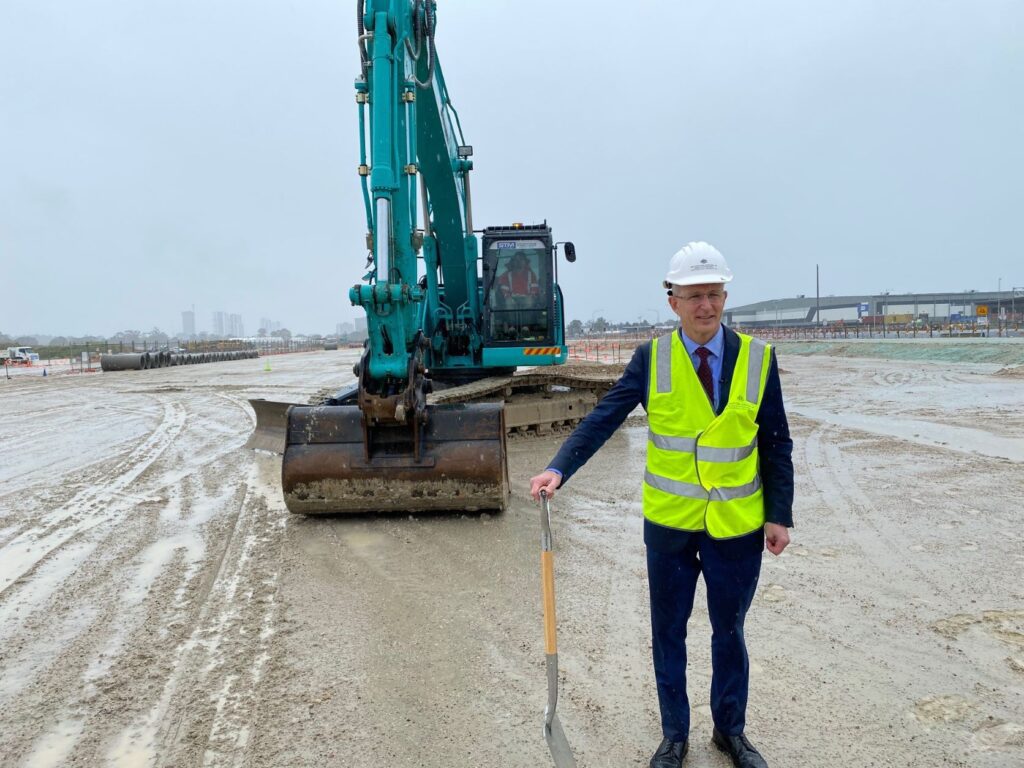 Driving along Moorebank Avenue where the logistics park is taking shape gives motorists only an inkling of how big this incredible project is.
Well, let me tell you, that after seeing much of it from the comfort of a mini bus I can confirm that Moorebank Logistics Park really is bigger than Ben Hur.
Put it this way, it's bigger than the entire Sydney CBD.
But size doesn't explain everything, because here we're talking about nation building off the back of government and private enterprise collaborating to produce the best possible outcome for all stakeholders.
What is being built right here is an intermodal that is one of the biggest in the world.
Moorebank intermodal terminal, the heart beat of the logistics park being built around it, will bring the sea, road and rail modes of transport together in the one place like never before.
As the federal minister for infrastructure Paul Fletcher pointed out, the long term aim is to establish a national logistics connection between Moorebank, Melbourne and Brisbane, as well as other parts of the country.
Mr Fletcher was in Moorebank this morning to signal the start of work on the interstate terminal, but before that he was taken on a tour of the giant facility, including the massive Woolworths distribution warehouse complex under construction.
And if Mr Fletcher's facial expressions were anything to go by, he was very much impressed by the size and scale of the work completed so far.
"A lot has happened since I was last here about a year ago,'' he commented.
The minister said the interstate terminal would be able to handle freight trains as long as 1.8 kilometres, each with the potential to remove more than 100 B-Double trucks per trip.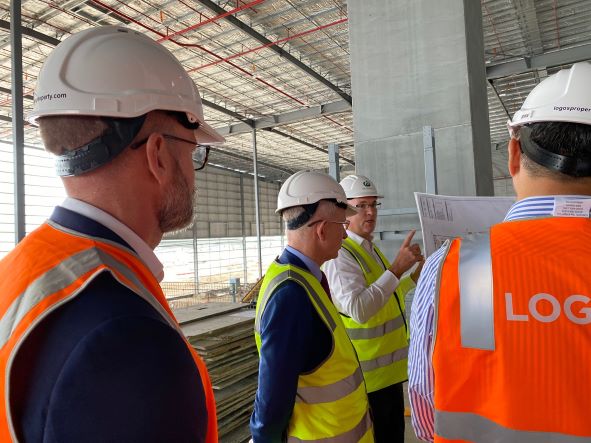 "This is about the transformation of Australian supply chains,'' the minister said.
"It's about boosting productivity and efficiency to the point where a product ends up on the shelves of a local store at a lower price,'' he said.
Mr Fletcher also pointed to substantial environmental gains in the form of lower emissions.
"Rail is three times more carbon efficient than road per ton of freight transported,'' he said.
"Once fully operational, the precinct will take up to 3,000 truck movements off Sydney roads each day and reduce up to 110,000 tons of carbon dioxide emissions per year.''
Once the interstate terminal is up and running – in 2025 – it is estimated that at full capacity it will take 11,000 trucks off national highways every year.
Then there's the local job boom, with 1,300 during construction and then 7,000 permanent jobs in Moorebank Logistics Park.
The new interstate terminal will be built and operated under an industry first joint development model between Australian Government-owned National Intermodal Corporation [formerly Moorebank Intermodal Company], Qube Holdings Limited (Qube) and LOGOS, a funds manager for logistics projects.
Once complete, Moorebank Logistics Park will comprise 850,000 square metres of modern warehousing and freight management facilities with a dedicated freight rail link to Port Botany and direct access to major highway networks.
The Federal Government has invested $514 million to date for the delivery of the Moorebank Intermodal Terminal Precinct.
Originally mooted in 2004 as two competing intermodals across the road from each other, Moorebank Logistics Park is now, finally, closer to reality.
There are still a couple of jigsaw pieces to go in, including the interstate rail terminal, widening Moorebank Avenue and a new flood free bridge over the Georges River at Cambridge Avenue.
But even before that it is already a mighty impressive project, one our country can be proud of.