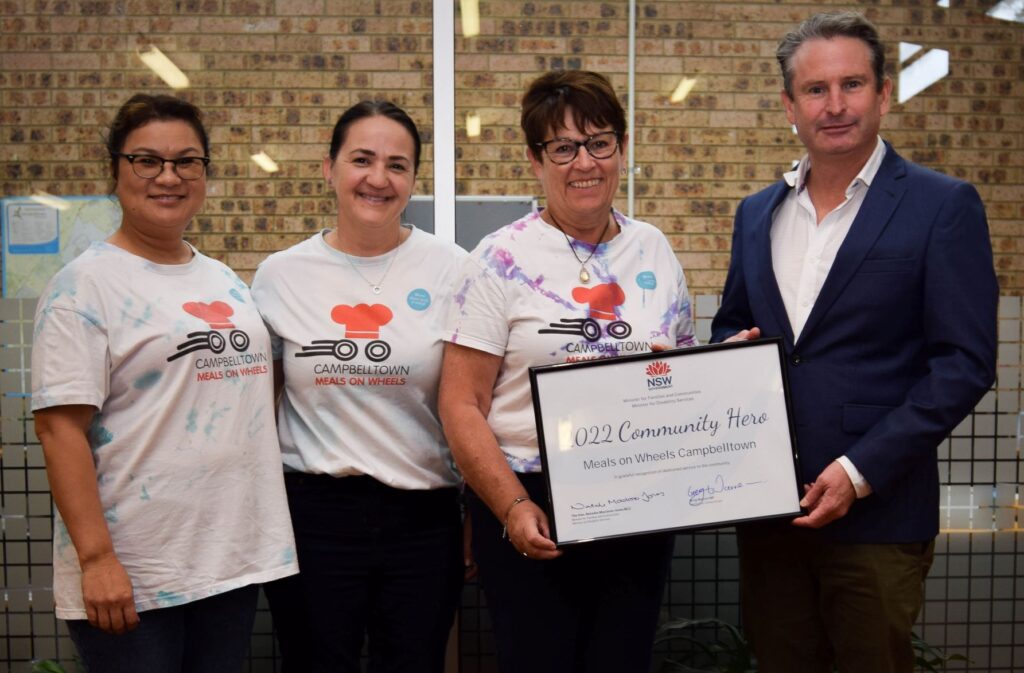 For 50 years Campbelltown Meals on Wheels has enabled the aged and people with disabilities live independent lives.
It has done that by delivering nutritious meals which enables them to remain in their own homes.
The meals are delivered by a dedicated and trained team of volunteers, Monday to Friday between 9am-11am.
But they do more than deliver food: Meals on Wheels volunteers also provide wellbeing checks and a social connection to their "clients''.
In the past two years, when demand for their service saw a massive increase, Campbelltown Meals on Wheels stepped up to the plate.
A little bit of recognition has now come the way of Meals on Wheels.
Local MP Greg Warren has presented the team at Campbelltown Meals on Wheels with a 2022 Community Hero award, pictured above
Run in conjunction with National Volunteer Week, the Community Hero award is presented to an individual or group that have contributed significantly to its community.
Mr Warren said the team at Campbelltown Meals on Wheels were certainly deserving recipients of the accolade
"The team at Meals on Wheels Campbelltown have been supporting our community for an extremely long time," he said.
"The need for the service has always been there, however that demand increased about four-fold during the Covid-19 outbreak.
"The entire team worked tirelessly to ensure the needs of our community were met and for that we will be forever grateful.
"Thank you to everyone at Campbelltown Meals on Wheels for everything you have done, and will continue to do.
"Your contribution, hard work and dedication certainly does not go unnoticed or unappreciated."