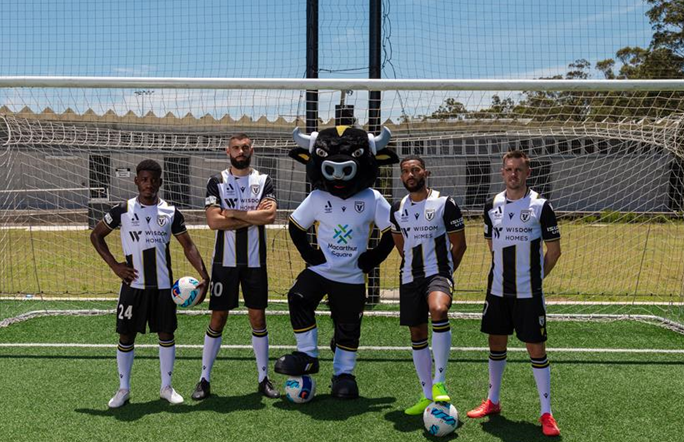 Once upon a time, Campbelltown boasted the best mascot in the sporting landscape.
Back in the day when Western Suburbs Magpies called Campbelltown home, their mascot, Mark the Magpie, was a favourite with fans across the league.
Mark the Magpie is long gone, but long live the new king of the mascots, the Macarthur FC Bull.
The Bull has been busy training hard and cheering on his new teammates, (pictured above) and is eager to step onto the pitch at Campbelltown Stadium and hear the fans ringing their cowbells and chanting his name.
Unfortunately, this is the mascot with no name – the mascot that hasn't even made its debut at an A-League game.
No bull.
So, the club, along with sponsor Macarthur Square, has launched a campaign to name the Bull mascot.
The Macarthur FC Bull pays tribute to the South Western Sydney region's 1795 runaway herd and club colours.
So come on you Bulls supporters, pitch your name suggestions for the Bull – Norm the Bull, Strawberries Bull, give us what you got.
The winner of the naming competition will earn a special place in the club's history.
They will not only be the first to meet the new recruit, but will also be provided with a special opportunity at an upcoming home game with Macarthur FC.
What's more, they will receive a family pass to the game and a dining voucher to redeem at Macarthur Square pre-match.
Entries to name the Macarthur FC Bull opened yesterday (December 21) and close on Thursday, December 30 at 5pm.
Submissions can be made online via www.macarthursquare.com.au or in-centre at the official Macarthur FC experience store on Level 3 at Macarthur Square.