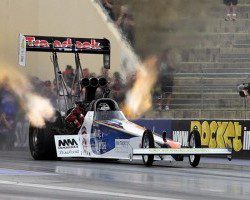 The partnership between Mariani Family Motorsports and Make-A-Wish Australia continues to grow as they prepare for a big day out at the Sydney Dragway's Nitro Champs this weekend, May 2-3.
Based in Whetherill Park on the doorstep of Sydney Dragway, the Mariani team first linked with Make-A-Wish Australia at the Australian Nationals in November as a feeling out exercise for both parties.
Although the weekend did not end the way the team had hoped by controversially being ruled out of the field through a rain interrupted qualifying session, Make-A-Wish were suitably impressed.
"To say they were amazed would be an understatement, they had no idea how family orientated drag racing is and how generous its supporters and fans are," explains driver Mark Mariani.
"We have now extended the partnership for all of 2015.  At the Nitros we will have CEO Gerard Menses join us again, along with a Make-A-Wish child and family, a Make-Wish Young Ambassador, perhaps even a celebrity and again the Make-A-Wish volunteers will be out and about taking donations."
Leading into the Nationals last November the team had difficulty finding enough volunteers. Not so for the Nitro Champs.
"The word has gone out what a great time they had and volunteers have been queuing up to come along to the Nitros,'' Mariani said.
"We will also be doing some fun things like raffles and auctions to raise money.  Last Saturday (April 18) we had Sebastian Terry of 100things.com.au fame attend our display at Sydney Dragway's Mighty Car Mods show; he was blown away by the Make-A-Wish Top Fuel dragster and is looking to include the Nitros in his busy schedule.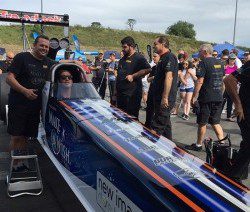 "Mariani Family Motorsports are very proud by what we have achieved with Make-A-Wish Australia and we all agree that it's only just the beginning!"
The Nitro Champs is the penultimate event of the 2015 ANDRA Drag Racing season and will be held at Sydney Dragway this weekend, May 2-3.
Nine Top Fuel and seven Top Fuel Motorcycle teams will battle it out for nitro glory alongside the full roster of ANDRA Drag Racing Series and Summit Racing.
Look out for the Make-A-Wish volunteers at the Nitro Champs or go to https://making-wishes-happen.everydayhero.com/au/mariani-family-motorsport to help the team bring strength and joy to children with life-threatening illnesses by bringing them a life-changing wish.