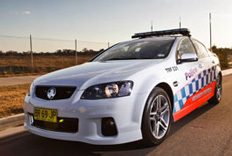 Police have charged a man after he alleged threatened officers with a metal bar in Ambarvale last night (December 17).
About 7.30pm, officers from Campbelltown Local Area Command were patrolling Camilla Way, Ambarvale, when they saw a man that was wanted on an outstanding warrant.
Police approached the 28-year-old man who was standing next to a motorcycle. He allegedly attempted to start the bike, before leaving it and running away.
Officers ran after the man, who allegedly turned and threatened them with a metal pole. He then climbed onto a roof and refused to come down.
Specialist police attended the scene and after a period of time the man climbed down a ladder. The man was arrested and taken to Campbelltown Police Station.
Investigations revealed that the motorbike was allegedly stolen.
The 28-year-old was charged with an outstanding arrest warrant, stealing a motor vehicle, malicious damage, use weapon to avoid apprehension, and two counts of resisting arrest and assaulting police.
He was refused bail to appear at Campbelltown Local Court.
*************
Green Valley Police are continuing to appeal to the public for information after two men suffered gunshot wounds last Thursday (December 11).
About 10.20pm, police were called to a licensed club on Hoxton Park Road, Prestons, after a 23-year-old man suffering gun-shot wounds stumbled into the rear foyer of the club.
He was taken to Liverpool Hospital for treatment.
A short time later, police became aware that a second man, aged 22, presented at Liverpool Hospital, also suffering from a gun-shot wound.
The injuries to both men were not of a life-threatening nature.
Detectives attached to Green Valley Local Area Command have initiated Strike Force Lancashire to investigate the shootings, which are believed to be related.
Initial inquiries indicate the incident took place in a car park area, next to an ice skating rink, attached to the club grounds.
A dark coloured four wheel drive was seen in the vicinity just after the shooting, heading west on Jedda Road, Prestons.
Police have spoken to a number of witnesses and are reviewing CCTV collected from the scene.
Detective Inspector Brendan Bernie, Crime Manager, Green Valley Local Area Command, is appealing to the public for any information that may assist his detectives.
"Investigators believe the incident may have been the result of a drug deal which has gone horribly wrong. It's fortunate no one was killed," he said.
"Police are still trying to determine whether or not the parties involved knew each other before the shooting or if it was a chance meeting," Det Insp Bernie said.
Police are urging anyone with information in relation to this incident to call Green Valley Detectives or Crime Stoppers on 1800 333 000.