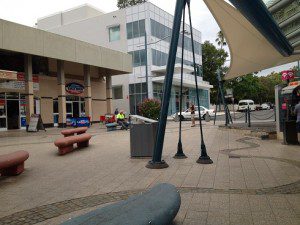 Very few suburban main streets in the Sydney metropolitan area are booming.
In fact, decline is the best word to describe what's happened in the past 30-40 years.
Which is the same period that has seen the rise and rise of the all-weather shopping malls like Westfield and Macarthur Square in our neck of the woods
Given the choice of shopping in the main street, which could be hot or wet depending on the weather, and the airconditioned comfort of a shopping centre, consumers voted with their feet.
It's one of those great, big no brainers, so the wonder of it all is that after all the years of domination by shopping malls we are still have a discussion about what to do with our main streets.
How to restore their former glories, even.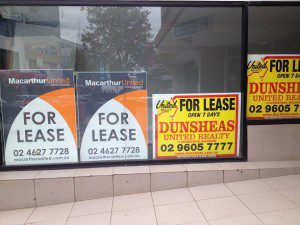 Obviously there's something in us that yearns for the good, old days of popping down to Queen Street in Campbelltown or Macquarie Street in Liverpool to do our banking or post a letter and maybe grab a cup of coffee with someone you bumped into.
And you always bumped into someone you knew, someone you hadn't seen for a while. Sometimes you bumped into three or four such people.
The main street was where the community had its conversation about how things were going, if property prices were going up and whether the council was doing a good job picking up our rubbish.
The heartbeat of the community was always to be found in the main street.
But now that most of us spend our shopping and banking time indoor at shopping centres, who knows where the heartbeat of the community is to be found.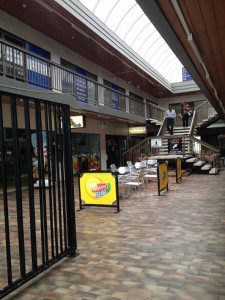 Speaking of banks, I heard last week that Westpac is about to move out of Queen Street, meaning the ANZ and St George will be the last major banks standing in Campbelltown's main street.
So it looks like things will get a little worse before they get better, but don't expect Campbelltown Council to weave a magic wand and fix things. They just haven't got that much influence in what happens to commercial premises when they are leased.
"People ask me what are we going to do with Queen Street, but the thing is we don't own Queen Street, so there's not that much we can do,'' the mayor, Paul Lake told me.
One of the main gripes, says Paul Lake, is about the prevalence of the $2 discount stores.
If you go on a bit of a walk down Queen Street you will obviously notice the For Lease signs on vacant shop premises, and so it would be easy to just be negative about this main street.
But there are a lot of positive things, some hidden treasures even, that should be promoted more to attract local residents and even tourists to our main street.
Personally, when I go there, I always pop into the Spotlight Plaza to check out the second hand book shop and one of the best antiques stores anywhere.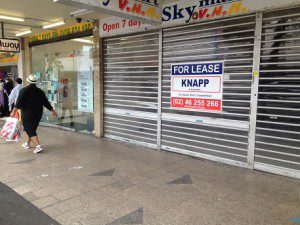 But I was saddened last week to see that there weren't as many Middle Eastern shops anymore.
But overall, Queen Street offers a lot of interesting stores, some of which are in the arcades that make up the precinct.
I certainly don't think Queen Street is a lost cause – it can still get its mojo back with some hard work from all the stakeholders.
At Liverpool, the council this year will embark on a revitalization of Macquarie Street, including reopening it to one way traffic after hours between Moore and Elizabeth Streets.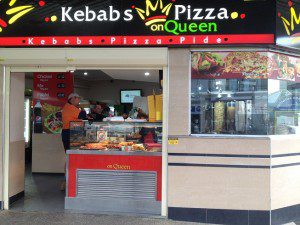 It will give the street furniture a major facelift and install new playground equipment in the children's play area.
But Liverpool's main street problem isn't as dire as Campbelltown, because the big enemy of the main street, Westfield Liverpool, is located right there on the northern edge of the CBD, so it's not really an enemy at all. In fact, I know people who park their car in Westfield, which offers free parking for the first three hours, and then head out to the main street to do their business.
But it also means you could walk the main street for some of your business, and then walk a couple of minutes back to Westfield for lunch if it's too hot outside or it's raining.
The southern end of Liverpool's CBD is the poor cousin, but even that will revive once two or three commercial/residential developments nearby are completed in the next few years.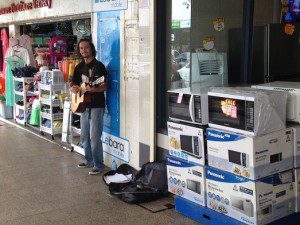 In Campbelltown, and I've said this many times before, Macarthur Square is not walking distance away, so it's a different issue.
So you go back to the positives of Queen Street, including shopkeepers who believe there's hope yet.
One I spoke to said he gave it 10 years to become revitalized, and if this didn't happened, Queen Street would be a dead duck.
They key to its success, he said, was high rise residential located within walking distance of Queen Street.
Paul Lake told me that's one of the big things coming in Campbelltown – a massive increase in apartment buildings over the next 20 years.
Which is great, but will it be too late to save Queen Street?