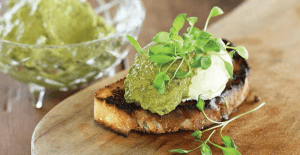 For Australia's own foodie legend, Maggie Beer, the philosophy of Sharing the Table has been a long standing common thread through so much of what she loves – it all comes back to gathering around the table to share good food, great conversation and wonderful company.
Never one to turn down a spontaneous social opportunity, over the years Maggie has developed her own fool-proof approach to making sure beautiful food need never be threatened by time restraints.
The cleverness is in making things ahead of time, but that doesn't mean Maggie's suggesting that job falls in your mixing bowl; in keeping with her generosity of spirit, she's taken care of that for you with a beautiful new range of go-to flavours.
Ready and waiting to entertain your next get together, would you like to guess what she's called this collection of dips? Introducing Maggie's latest creation – Sharing the Table.
A collection of five full flavoured combinations; Tomato, Basil & Caper; Eggplant & Tomato; Beetroot, Vino Cotto & Orange; Spinach, Currant & Preserved Lemon and Romesco, Sharing the Table is a range dedicated to its namesake.
As Maggie explains: "My entertaining always follows the golden rule of keeping things simple to let the produce shine.
"Using ingredients that are in season and prepared ahead of time makes all the difference – a stressed host is never fun!
"I always create generous platters of nibbles ahead of time and have an icy cold glass of bubbles ready for everyone on arrival,'' says Maggie.
"Whether starting with bruschetta or simply having an option for fresh crudites, my Sharing the Table range has been created with equal measures of ease and flavour in mind.
"Of course there's every reason to carry on beyond canapes, the Romesco as a pizza base or Eggplant & Tomato served with meatballs – it's very easy to deem the idea of Sharing the Table as a meal in itself, and spend the rest of the 'cooking time' enjoying myself!"
With especially chosen ingredients, any of one of the range is perfect to serve as an appetiser, spooned straight from the tub onto lavosh, water crackers or woodfired bread, or be taken to the next step, served with white fish, stirred through a quinoa salad or
serve alongside a roast chicken. With time on your side, no doubt you'll come up with a few more delicious ideas too.
You will find the range at your local gourmet store and  independent supermarket.