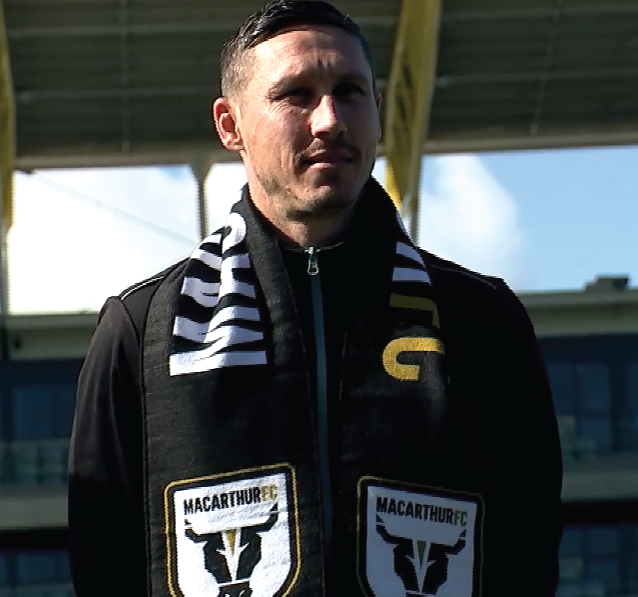 Macarthur FC will line up for their 11th A-League match tonight when they take on competition frontrunners Central Coast Mariners in Gosford.
Incredible as it may seem, this will literally be a top of the table clash, with first and second locking horns from 7pm at Central Coast Stadium – the one with the giant sauce bottles at one end.
This one will definitely be spicy because when they met for the first time in January at Campbelltown the Mariners were too good, sailing home 2-0.
The home side is on 21 points and leading the league after 10 matches, while the Bulls, also having played 10 times, are four points behind in second place.
A win for Macarthur will see them close the gap to just one point, and that's exactly what we're tipping here.
No doubt the Bulls will have one other reason for wanting victory and revenge for that first round loss.
The match will be Mark Milligan's 150th A-League appearance.
And although both coach and the man himself, pictured above, played down the significance of the milestone, there's no doubt it will be a factor tonight.
The Bulls will love nothing better than to record a victory for their inspirational skipper, who has turned out to be a great signing for the league's newest franchise.
"I went to two World Cups with Millsy so I knew what we were getting with him, a great contribution on and off the field, so I am very glad we were able to bring him to Macarthur FC,'' said head coach Ante Milicic on the eve of the match.
"The Mariners are a very fit side, who are dangerous because they have so many goal threads.''
Milligan himself admitted he had not thought of the milestone until he started being asked questions about it.
"Yea, it's a nice milestone, but more importantly it's a very big match for us,'' he told the media.
"We need a positive performance, and to get a result.
"The Bulls are so far moving in the right direction, which is fantastic for the area.
"Results keep fans happy and bring them to the ground when we play at home in Campbelltown.''
There will be live TV coverage of tonight's match on Fox Sports 505 and MyFootball Live App, Live Fast and Data Free for Telstra mobile customers. Radio broadcast:myfootballnation.com (SEN Track Sydney 1539AM, SEN Track, Central Coast 809AM), Coast FM 96.3.