Macarthur FC head coach Ante Milicic says that last week's clean sheet against Adelaide is just as important as scoring four goals.
Speaking ahead of tonight's match with Western United in Ballarat, Milicic also praised his number nine, Matt Derbyshire, who bagged a hat trick at Campbelltown Stadium last Saturday night.
"Matt has been good for us, even when he wasn't scoring goals earlier in the season,'' Milicic said.
"He wasn't getting the sort of service a number nine looks for but he was patient and also worked hard for us in defence.
"But if he gets decent service there's a good chance Matt will put them away.''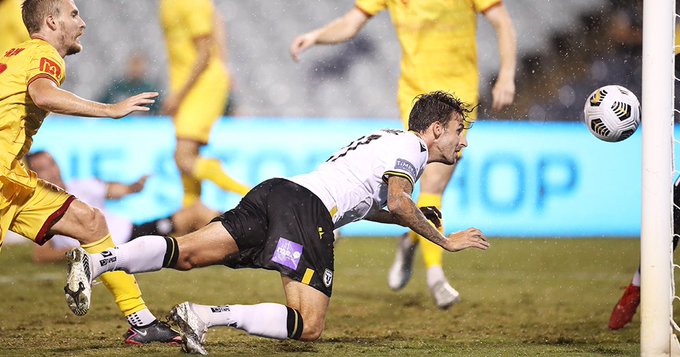 Derbyshire's hat trick meant that he went straight to the top of the A-League goal scorers list with five so far.
Milicic said the clean sheet in the 4-0 win over Adelaide was a big step forward for his team, which has looked fragile at times in defence.
"This is really important for us, keeping a clean sheet,'' he said.
Milicic has brought back into the squad both Lachlan Rose and Liam Rose.
Other than that, the squad is the same as the one named for the Adelaide clash last week.
Macarthur FC will be on the road for two weeks, heading to Kogarah to take on Sydney FC the following week.
Tonight's match in Ballarat will kick off from 5.05pm.
There will be live coverage on Fox Sports 505 from 5:00pm.
Macarthur FC squad:
1. Adam Federici (Goalkeeper),
2. Jake Mcging,
3. Antony Golec,
4. Benat Etxebarria,
5. Mark Milligan (C),
6. Aleksandar Jovanovic,
7. Ivan Franjic,
8. Denis Genreau,
10. Loic Puyo,
11. Tommy Oar,
12. James Meredith,
14. Moudi Najjar,
15. Aleksandar Susnjar,
16. Nick Suman (Goalkeeper),
21. Jake Hollman,
22. Liam Rose,
27. Matt Derbyshire,
29. Antonis Martis,
31. Lachlan Rose,
33. Markel Susaeta.