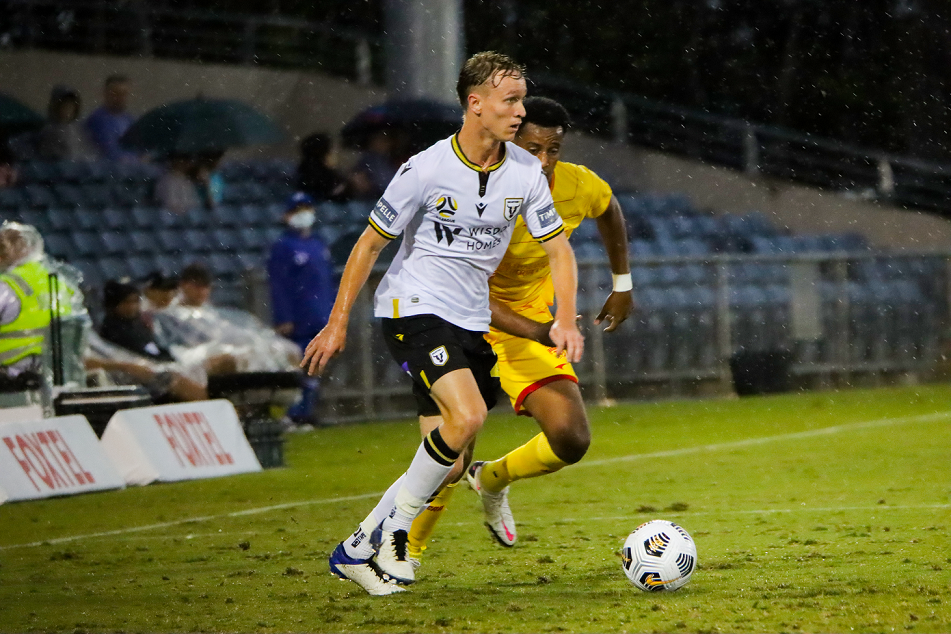 He is only 19, but midfielder Jake Hollman has been so impressive for Macarthur FC so far he has been rewarded with a two year extension to his contract.
Hollman made his A-League starting eleven debut during Friday night's 4-0 demolition of Adelaide United at Campbelltown Stadium, pictured above.
The young Socceroo has already featured in five of the club's eight matches this season, earning the free-kick in his A-League debut against the Wanderers that eventuated in Beñat Etxebarria securing the Bulls' first goal and win in the competition.
After setting up Denis Genreau's opening A-League goal with some crafty work on the edge of the box against Brisbane Roar, his speed and agility have made Hollman a big talking point in recent weeks.
Now head coach Ante Milicic has moved swiftly to lock in the youngster's talents until 2023.
"We are delighted to have secured Jake for a further two years," Milicic said.
"He is an exciting dribbler in the front third and adjusting well to playing with men in senior football. We are really pleased with his progress from pre-season to now.
"He is a serious young man who has the right attitude and continually wanting to learn. He is a good professional who is reaping the benefits of the environment the senior players have created at the club," Milicic said.
Hollman said he was enjoying the challenge and looking to continue developing.
"I love it here. It's a great club for my development,'' he said.
"I'm thankful to Ante and the coaching staff for the opportunities so far, and now it's up to me to repay the trust they have instilled in me.
"I feel this is the perfect environment."