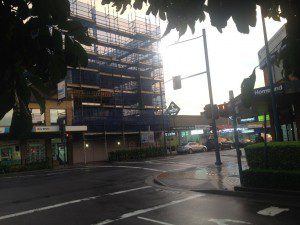 Where are you more likely to get a sore neck from looking up at another new high rise building under construction?
No, it's not Camden, where they are having difficulty replacing a paver or two in the main street without attracting the ire of some locals concerned with the autocratic tendencies of the Liberal Party run council.
There are some of these buildings going up in and around Campbelltown, but in truth it's not in the same league as Liverpool, where this photo was taken earlier in the week.
This one is located in Memorial Avenue, near the T section with Northumberland Street and it seems to have sprung up overnight.
The scary thing with Liverpool is that with so many applications approved or about to be approved for more commercial buildings, some of them as high as 30 stories, the place will be unrecognisable in five years.
Ground level, there are also new shops opening up almost every week, a lot of them classy fast food joints, and there's a nice buzz about the place.
The only problem they have in what Liverpool Mayor Ned Mannoun likes to call the "capital of the south west'' is how to manage this incredible rate of change.
If they do a good job with that, look out Parramatta – Liverpool's coming to get you.