Move over Socceroos, here come the Indigenousroos! The national Australian Indigenousroos football team has just been named and there are two local names included.
Keifer Dotti and Deegan Hunter, both Indigenous Football Program (IFP) coaches at the Camden Tigers football club, have been selected in the Indigenousroos side.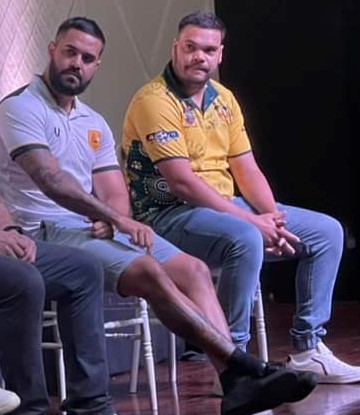 Dotti captained the side in 2016, while both played in the recent Dharawal Cup match at Camden.
Dotti and Hunter were interviewed on stage by MC Patrick Duffy at the Tigers season launch this week about their selection to the 2022 Indigenousroos.
"This is a team with players from all over the country so it's a great honour to be selected to represent your people and their culture,'' said Dotti.
Camden Tigers IFP director Phil Dotti, who is also the father of Keifer, said the selection of the pair was a great honour for them and their extended families.
The Indigenousroos, who will be coached by former Socceroo player and coach Frank Farina, will play an exhibition match against the Sunshine Coast All-Stars representative team on March 5 at the Maroochydore Football Club, Queensland.
The aim of the game is to provide a platform to celebrate Australia's rich Indigenous culture and story through the world game. This event also presents an opportunity to officially showcase Indigenous football in Queensland and around the nation.
The high profile exhibition of Indigenous football is expected to attract an unprecedented 3,000 people plus, while the match will be live streamed on SBS and NITV platforms.