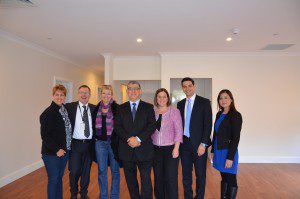 THE NSW Minister for Disability Services John Ajaka today, July 25,  attended the launch of the Royal Institute for Deaf and Blind Children's Liverpool office.
The centre will offer high quality vision and hearing services in south western Sydney, thanks to help from the NSW Government.
"South Western Sydney has one of the largest and fastest growing populations in Australia, with its 820,000 residents expected to grow to 1.3 million by 2031," Mr Ajaka said.
"In terms of age groups, children already make up 22 per cent of the population, and with that set to increase, so too will the demand for disability services for this age group.
"This new centre offers a wide range of services to meet the needs of the community and I am thrilled to have been a part of its opening.
"The NSW Government supports the good work that the Royal Institute for Deaf and Blind Children does within NSW and has allocated $5.9 million in funding this financial year."
Member for Menai, Melanie Gibbons, said the Liverpool office will be an accessible, community focused centre.
"It will offer a range of services including early intervention programs, a cochlear implant program for both adults and children, and therapy services that involve occupational therapy, speech pathology and physiotherapy," Ms Gibbons said.
"Having this new state-of-the-art facility in South West Sydney is great news for locals who may need these services and a real asset to our community."
The Royal Institute for Deaf and Blind Children is Australia's largest non-government provider of therapy, education and diagnostic services for people with a vision or hearing loss.