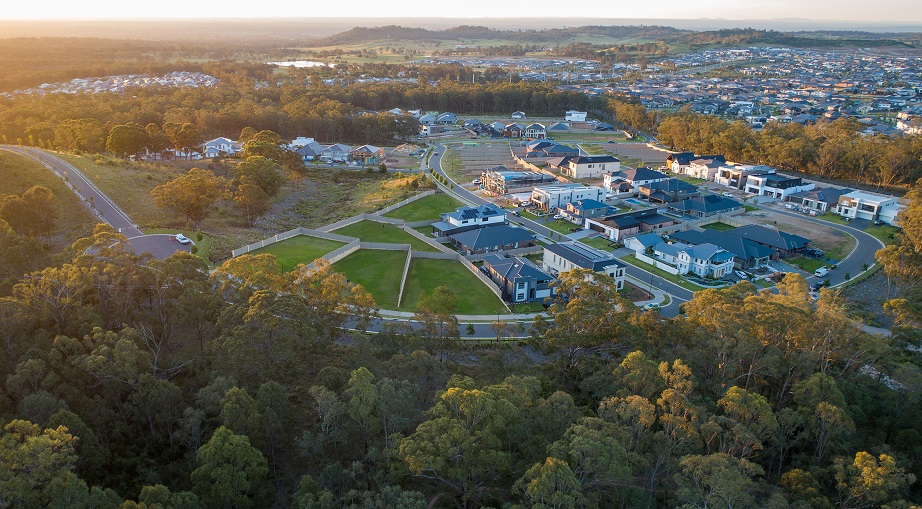 These five blocks of land at the forefront of the picture are the last ones left at Harrington Grove and they will be auctioned tomorrow, Saturday, December 5.
All of the blocks are in the Dancerwood precinct and are larger than today's average land for sale.
It's one of the reasons Harrington Grove has been an attractive real estate option for buyers around the Macarthur region and in the metropolitan area.
"We've kept the best five homesites for last and they'll go under the hammer on Saturday, December 5,'' says Harrington Estates managing director Terry Goldacre, who's been there from the start, including the establishment of Harrington Park next door.
"They range in size from 871 metres square to 1,400, and are nestled within the bushland setting of Harrington Forest, overlooking the vista of Harrington Grove and Camden.
"The five blocks are the highest land available within Harrington Grove which is why we've held them back as the best of the best," he said.
"The first house in Harrington Grove began construction in 2009, and in those 11 years we've sold more than 1,400 home sites within the estate.
"The thing that really sets it apart from many new housing estates in the south west is the larger lot sizes, the community facilities and the amount of land that has been set aside to remain as bushland and parklands."
Harrington Grove is one of the largest private conservation areas in Sydney, with more than 280 hectares of land preserved in its natural state.
Only 40 per cent of Harrington Grove is developed for housing.
Harrington Grove is a master planned residential community situated within Harrington Park.
All residents of Harrington Grove have access to community facilities like the Harrington Grove Country Club, tennis courts, swimming pools, gymnasium, community rooms, parklands, and other clubs.
Harrington Park and Harrington Grove are both highly awarded estates that have been lauded for retaining the natural bushland and setting the benchmark for sustainable developments.
Both are past winners of the Urban Development Institute of Australia (UDIA) residential development award.
For further details visit https://www.harringtongrove.com.au/