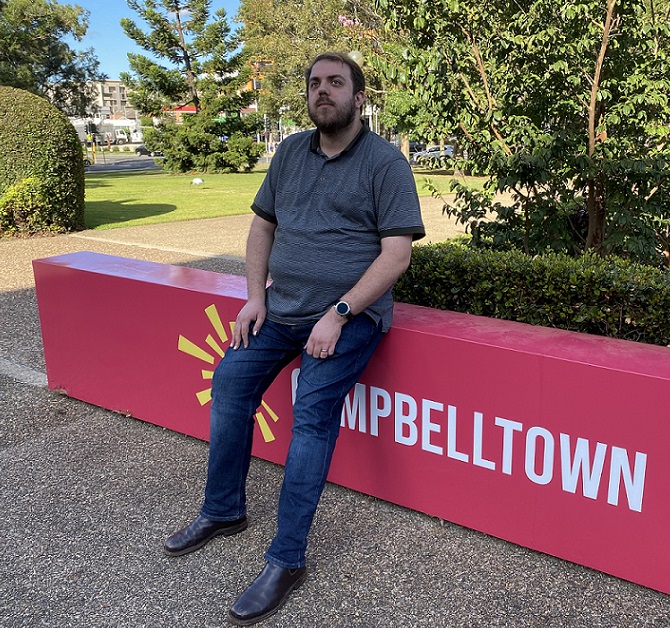 Greens councillor Ben Moroney says the times will suit him if he is re-elected to Campbelltown Council.
Cr Moroney, who has confirmed that he and his family have shelved plans to move to Tasmania, will lead a full Greens ticket at the local government elections on Saturday, December 4.
"We're not going anywhere now that property prices have gone through the roof in Tasmania,'' Cr Moroney tells the South West Voice in Macarthur.
"We'll be staying in Campbelltown and I look forward to serving on council again if elected.''
Cr Moroney, who was first elected to council in 2016, says quality of life issues will be top of the agenda in Campbelltown during the next term of council, which will last less than three years.
"I accept that growth is part of life, but the important question is how we manage that growth,'' he says.
His stance could mean a lot more scrutiny of later stages of the giant Gilead residential development by Lend Lease, the owners of Macarthur Square.
Lend Lease has got approval for stage one of the Appin Road development, which is expected to yield close to 1,800 lots.
It has been the subject of much criticism from environmental groups, both local and some from out of the area.
Cr Moroney is sympathetic to their concerns.
"I am not comfortable with Gilead – we do not need that much more housing in Campbelltown,'' he says.
"While stage one has approval to proceed, and I'm not happy about that, later stages are not through as yet.''
Cr Moroney says he has enjoyed his stint on council over the past five years but won't give himself a pat on the back for his contribution.
"I will let my work speak for itself,'' he says.
Alongside major plans such as the Campbelltown Billabong, Cr Moroney cites upgrades to civic infrastructure such as libraries, community buildings and halls as noteworthy achievements of the current term.