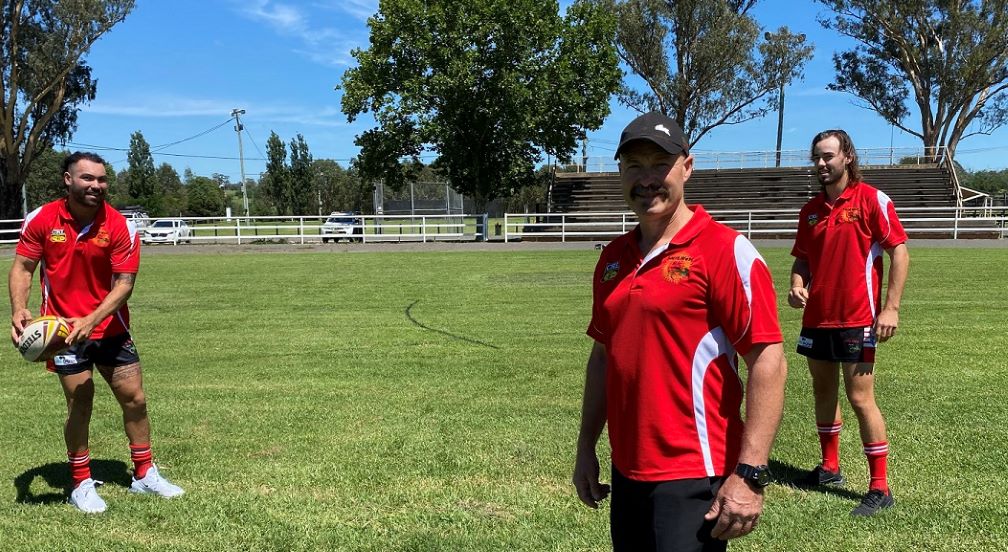 South West Goannas founder Mark Baird is exasperated with some of the people who run rugby league.
He says the club has received very little help since coming on the scene in 2020.
And now, on the eve of a new Group Six rugby league season, he has unleashed on both the NSW Rugby League and Camden Council for their lack of support.
"The AFL puts league to shame when it comes to supporting new clubs and expansion of the game in general,'' says Mr Baird, pictured above at Onslow Oval in 2020.
Before joining the competition in 2020, the Goannas submission to Camden Council made a case for a home ground facility located in the growth areas of the district.
"Oran Park, back to Leppington and round the back of Austral was what our initial submission was,'' he says.
"That's where the growth is, the northern end of Group 6 and South Western Sydney.
"There's 8,000 new homes coming in the next 15 years, and no one is servicing rugby league there.
"Plus we said we wanted to avoid stepping on anyone's toes, we wanted our own boundaries and to tap into an unserviced rugby league area.
"Unfortunately, council won't give us a facility there, and the league won't give us their support,'' he said.
Rugby league, like all community sport, was hard hit by the restrictions such as lockdowns during the three years of the pandemic from 2020 to 2022.
The Group Six competition was also revamped last year, coming in under the auspices of the NSWRL and Wests Tigers.
The Goannas decided to reapply for first grade in 2023, and they were accepted, which was great, until they were kicked out of their home ground, Onslow Oval in Camden to make way for the Camden Show – and their pleas for a decent alternative training facility fell on deaf ears, says Mark Baird.
"Macarthur Rugby League and the NSWRL have a lot to answer for; they are treating us like second class citizens,'' he says.
"All we want is somewhere to train and somewhere to play. Just be on an even keel and treated like everyone else.
"Officials, take a look at yourselves in the mirror, do you really care about the game? We want to grow the game and are being treated like crap.''
This was the response from Camden Council: "The allotted time to prepare Onslow Oval for Camden Show is essential due to the size and scale of Camden Show, and to ensure the facility is made safe and ready for the Camden Show bump-in.
"The South West Goannas were made aware of the exclusion dates for Onslow Oval before confirming their seasonal booking with Council. Council offered an alternate venue (full-size field with floodlights) for training, but the South West Goannas chose to train at the mod-field at Kirkham Park. [Goannas say the alternate field was available on the wrong days, not on their normal training nights, Tuesdays and Thursdays, like just about every other footy club in the district]
"Council continues to support the South West Goannas and as of next week, they will have access to another field which does have lighting.''
For its part, this is what the NSWRL had to say in response to Mr Baird's accusation that the Goannas have not been given fair dinkum support from league's higher ups.
"South West Goannas from the Wests Group Macarthur First Grade Premiership were made aware their home ground, Onslow Reserve at Camden, would be unavailable in the lead-up to 24-25 March due to a scheduling clash.
"The NSWRL and Camden Council have presented other options for a training venue which have not been taken up by the club.
"The NSWRL will continue to work with all stakeholders on the matter and believes South West Goannas have not been disadvantaged under the Policies and Procedures guidelines for 2023."
The Goannas, who will open their season with a trip to the Southern Highlands to take on the Mittagong Lions this Sunday, have now been able to practise under lights – at a baseball field with no lines or goal posts.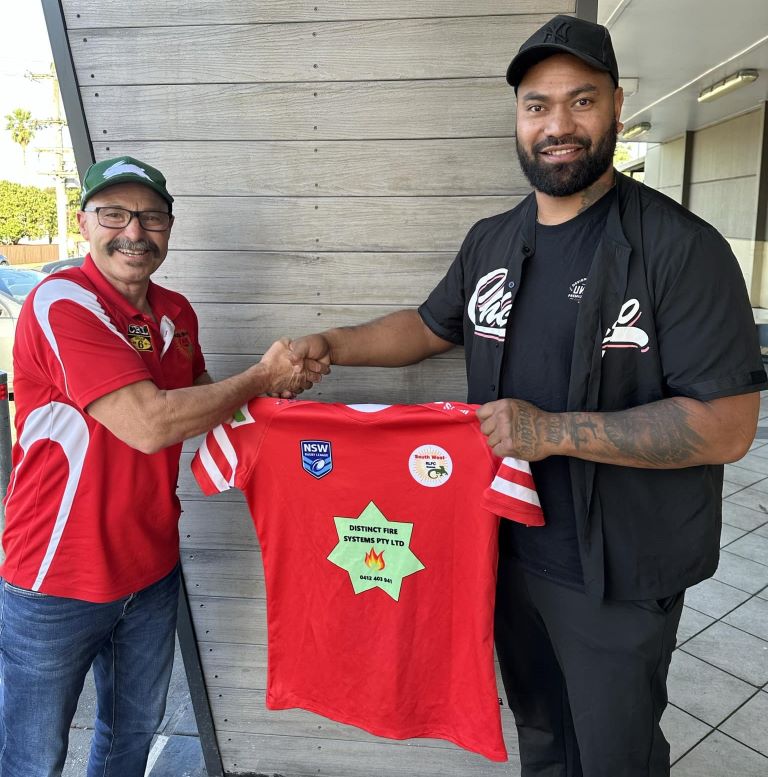 Having recruited big in the off season, including bringing in NRL legend Tony "T-Rex'' Williams (pictured above with Mr Baird) as captain coach and Italy World Cup representative Ronny Palumbo and others, the Goannas were looking forward to being competitive this season.
Now they will head to Mittagong with a preparation that has been less than ideal.
In round two they are scheduled to play Camden Rams at Kirkham, in a "home game'' for the Goannas.
"We're ecstatic that Group 6 clubs supported our re-introduction to the competition,'' says Mr Baird.
"We couldn't have done it without the board of Group 6, Thirlmere, Camden, Campbelltown City, Mittagong, The Oaks and Oakdale, their support, unbelievable.
"So we just want to have a crack and given the facilities other clubs are preparing their season for.''
On a brighter note, and looking at the long term, the Goannas have made a friend in Nathan Hagarty, who looks set to be the local MP in the area they'd like to settle in as their home base.
"Our region is growing rapidly, and services and infrastructure simply haven't kept up. Just as we need more schools and hospitals, we also need more sporting fields, including for rugby league,'' the Labor candidate for Leppington told the South West Voice in Macarthur.
"The South West has long been fertile ground for rugby league stars. Clubs like the Goannas need support from all levels of government and I'll be fighting to ensure they have a suitable home ground in Leppington.''
MACARTHUR/GROUP 6 ROUND ONE FIXTURES
6.30pm Saturday:
Oakdale Workers v East Campbelltown Eagles
3pm Sunday, March 26:
Camden Rams v The Oaks Tigers;
Mittagong Lions v South West Sydney Goannas;
Narellan Jets v Campbelltown Collegians;
Picton Magpies v Campbelltown Kangaroos;
Bye: Thirlmere Roosters