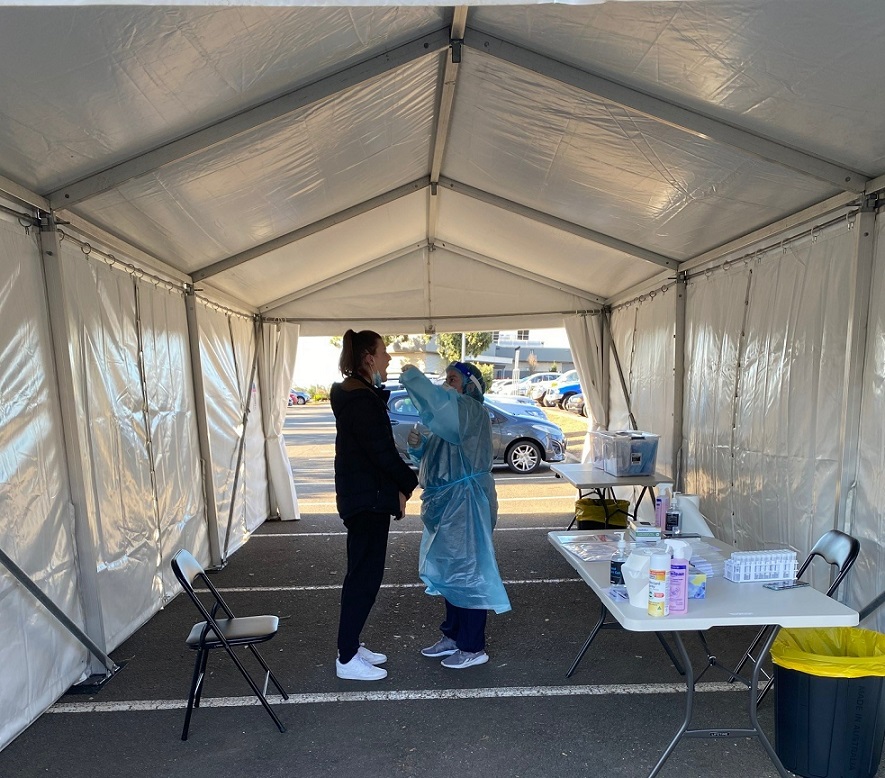 Yesterday I found out how easy it is to get tested for Covid.
After starting to develop one or two flu-like symptoms a few days earlier, and knowing that a testing clinic was now set up in the southern carpark of my local shopping centre, Minto Marketplace, I took the plunge yesterday afternoon.
Yes, there was a bit of trepidation, this being my first test since the pandemic reached our shores more than 18 months ago and even though I have been fully vaccinated since June 20.
The trepidation came mainly from recalling TV images of people being tested early in the piece and not looking at all comfortable as the swab stick was shoved way too far up their nose.
But as I quickly found out, these days getting tested is a piece of cake.
I am not saying that I loved it that much I will be back again and again to have a swab taken from my mouth and each nostril.
But it is my happy duty to report that there's nothing to it.
The testing clinic, pictured above, is just one aspect of the pandemic services available at Minto Marketplace.
Astrazeneca Covid-19 vaccines are now available at Priceline Minto inside the centre.
To book visit priceline.com.au, click on Book Covid-19 Vaccines and select NSW, Priceline Minto Marketplace and your preferred time.
Also at Minto Marketplace, Minto Family Medical Centre has Covid-19 vaccinations available – for more information or to book visit mintofamilymedicalcentre.com.au or give their reception a call on 8706 6888.
And by the way, this morning, a lot less than 24 hours after being tested for Covid-19 at Minto Marketplace I received a message from a pathology lab. It read:
"Dear Eric: Result of Covid-19 test on your sample collected on 16/09/2021 is NEGATIVE.''