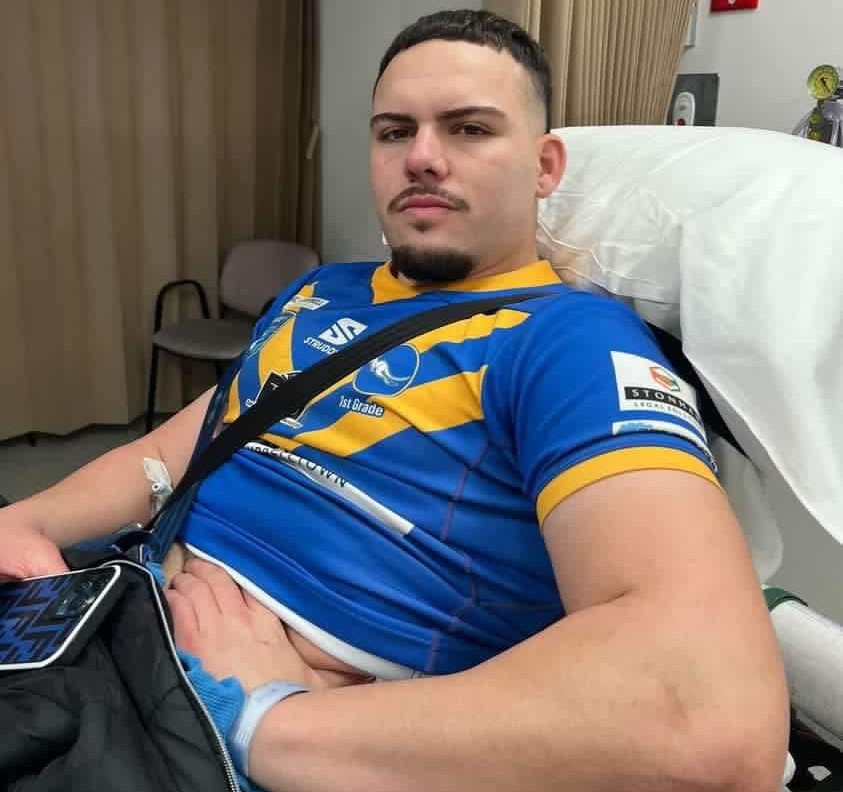 An ambulance had to be called when Campbelltown City Kangaroos tough as teak forward Harley Sanchez went down with a serious ankle injury in the 23rd minute of the first grade game against Oakdale Workers last Saturday night.
Some fans said later on social media later that they heard the crack from the hill, it was that bad.
Trainers from both clubs immediately rendered assistance to the injured forward.
When 75 minutes elapsed between when the injury occurred and the time the ambulance left the field, the Kangaroos say they made the decision to discontinue the game.
At the time of the injury, they were leading 6-4.
However, the result has been posted as a 17-0 forfeit against them.
A Macarthur Conference official confirmed the forfeit, which will stand unless an appeal is lodged by the club – and is upheld.
The South West Voice tried to reach the Kangaroos to find out if they plan to appeal the forfeit but we could not make contact with their officials.
In the meantime, Camden Rams have skipped to the top of the ladder, one point ahead of Mittagong after the completion of round 11 of the Macarthur Conference rugby league premiership.
The Rams, who scored a convincing win at Picton over the Magpies on the weekend, are on 19 points.
The Lions (18) had to be content with one point from their 18-18 draw with The Oaks Tigers.
Oakdale Workers (16 points), Thirlmere Roosters (15) and East Campbelltown Eagles (14) make up the top five after 11 rounds.
The Eagles are in the top five for the first time in quite a while.
The climb up the ladder was helped with a 58-14 win over Narellan at Waminda Oval on the weekend.
The Eagles have back to back home games, returning to Waminda this Sunday for their round 12 clash with third placed Oakdale Workers.
And finally, James Coyne of the Mittagong Lions, is top tryscorer of the competition, with 16 tries to his name so far.
RESULTS – ROUND 11:
Oakdale Workers 17 Campbelltown City Kangaroos 0 (Forfeit)
Mittagong Lions 18 The Oaks Tigers 18
Thirlmere Roosters 46 South West Goannas 12
Picton Magpies 24 Camden Rams 44
East Campbelltown Eagles 58 Narellan Jets 14
Bye: Campbelltown Collegians
ROUND 12 – 3PM, SUNDAY, JULY 2
Campbelltown Collegians v Narellan Jets
The Oaks Tigers v Camden Rams
Campbelltown City Kangaroos v Picton Magpies
South West Goannas v Mittagong Lions
East Campbelltown Eagles v Oakdale Workers