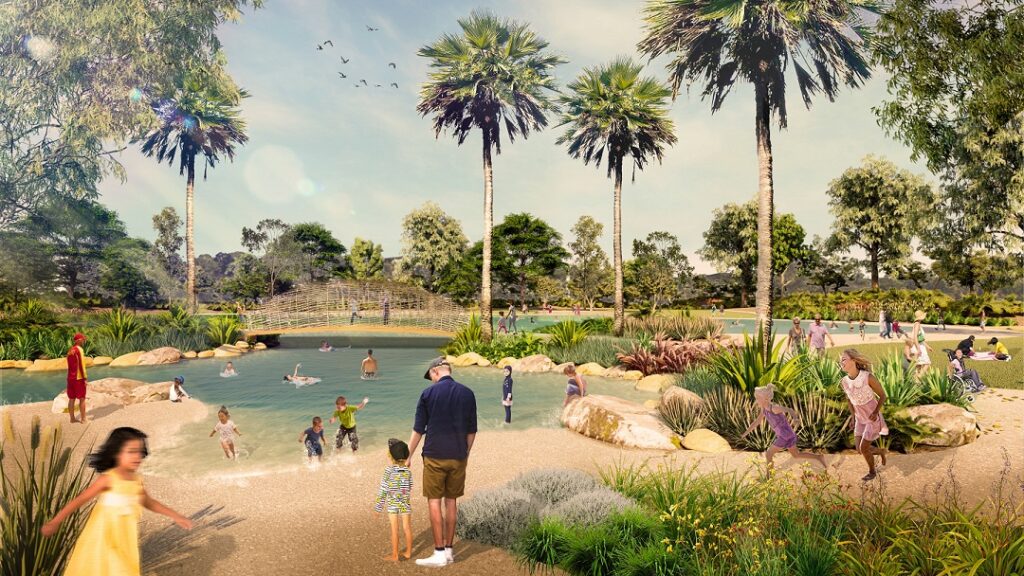 Local councils will share in a total of up to $250 million in NSW Government funding to create a legacy of quality, green and accessible public spaces to be treasured for generations to come.
Camden Council has qualified for the biggest allocation of up to $5.5 million towards the extension of the Nepean River pathway to connect Camden's natural assets and green open spaces.
Liverpool and Campbelltown will receive up to $4.75 million each under the NSW Public Spaces Legacy Program.
In Liverpool, the money will go towards upgrades to the public domain of Macquarie Street, creation of the Phillimona Gardens parklet and delivery of an outdoor performance stage within the Casula Parklands precinct.
Campbelltown will utilise the funding for Welcome to Country public artworks, event space and water features as part of the Billabong project, which is already under construction at Apex Park, Bradbury (pictured above).
Wollondilly, which receives $4 million, will deliver enhancements to a series of open spaces within the local government area, including Picton Parklands, Old Menangle School Site, an inclusive playground at Dudley Checham Park, Birrahlee Park, Willis Park and the WS Williams Memorial Park.
"This is a great result for the local community," says the Member for Camden, Peter Sidgreaves.
"The program will create legacy public spaces for future generations as well as keep local people in jobs to ensure our local economy keeps moving as we continue to respond to the impacts of the Covid-19 pandemic,'' he said.
Minister for planning and public spaces Rob Stokes said the funding being delivered to councils was reliant on them meeting agreed targets to speed up local development applications.
"This program is the first of its kind in NSW and demonstrates state and local government working together to create a legacy of beautiful public spaces that communities, for decades, can be proud of," Mr Stokes said.