The federal member for Macarthur is also one of the region's longest serving paediatricians.
It is often said of Dr Mike Freelander that he has helped deliver a lot of local babies over the past 30 years.
But his brilliant detective work in discovering that the old Campbelltown motor registry in Tindall Street is still partly open for business could mean he has missed his true calling.
While out and about in the town investigating another service under threat, WILMA women's health centre, Dr Freelander wandered on to the site of the old motor registry, which was closed by the current State Government, along with the one in Ingleburn.
Dr Freelander says it was immediately obvious to him that heavy vehicle inspections were taking place and were being carried out by RMS staff.
He made sure one of his people took a photo of him in front of the site.
But Dr Freelander didn't stop there – he wrote a letter to Premier Gladys Berejiklian to tell her he was unhappy the moor registry was still being used but his constituents had to travel all the way to Gregory Hills to renew their rego or driving licences.
But Macarthur Chatter doubts Dr Freelander will be holding his breath waiting for an explanation from Gladys.
xxxxx
On Saturday, July 28, the Wests Tennis Club auditorium will be transformed when member of Zonta Macarthur and other volunteers sit down for two hours (1-3pm) to pack no fewer than 600 sterile birthing kits for mum-to-be in Afghanistan, Ethiopia, Morocco, Ghana, Uganda, Tanzania, Kenya, Dakar and PNG.
This will be an increase of 200 over 12 months earlier when Zonta's mighty assembly team packed 400 birthing kits, which went to Somalia.
Zonta Macarthur have been packing birthing kits every year since 2005.
And when the 600 kits are done these wonderful local volunteers – women, men and children – will pack as many breast care cushions as possible.
These help women who have breast surgery in our local hospitals and also Wagga Wagga.
xxxxx
It was sad to hear that former Liverpool mayor Casey Conway had died at the age of 82.
Another former mayor, Gary Lucas, sent us a note about Casey.
"He was 82 and died as a result of a stroke eight months previous,'' Lucas said in his email message.
Lucas, along with two other former mayors, Noel Short and Col Harrington, attended the funeral service and paid their respects to the Conway family.
Lucas says another old former mayor, Joe Durrant, is in nursing care at Hammondville Homes after he lost his sight and hearing.
He's also losing his mobility, sad to say, Lucas told us.
As for Casey, my abiding memory of him is when he made world news – not easy in pre-internet days – for accepting a challenge from another Liverpool councillor, Bill Saddler, around 1980 to box in the ring for charity.
It all started when the pair had an argument during an ordinary council meeting, almost came to blows in the chamber in Moore Street and it escalated from there.
Those were the days…
xxxxx
More than 3,000 residents attended the recent opening of Oran Park Library.
But did you know that a whopping 790 items were borrowed on the first day of the new library.
And here's another little fact about Oran Park Library: it boasts a collection of more than 12,000 books and e-resources.
Some of the activities it will offer range from coding classes to 3D printing workshops.
xxxxx
Campbelltown Council's new director of city governance, Phu Nguyen, comes all the way from the culinary capital of the known universe Melbourne, where he was that city's chief financial officer.
Before his career at City of Melbourne, Phu, pictured, spent time with several other organisations, including the City of Port Philip and the Department of Human Services.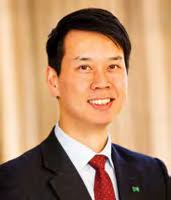 According to Lindy Deitz, the general manager of Campbelltown Council – and his new boss – Phu has an impressive resume as "an outcomes driven senior executive with considerable experience in leadership roles in both state and local government''.
"Phu is happy in his current role though was attracted to the scale of the opportunity at Campbelltown as he sees the once-in a-generation potential for our region,'' the GM wrote in a recent briefing note to the council.
"Phu is excited about the opportunity to bring his energy, enthusiasm and strategic abilities to the service of our community.''
A little online search led us to Phu Nguyen's tips for young professionals published in the CPA Career Mentor website:
Embrace change and openly welcome challenges in the workplace.
Be willing to fail and learn from your mistakes– some of my greatest learnings have come from my failings.
Build your own personal brand in the workplace and have confidence in forming your own views and judgements.
Build personal resilience and pursue your career goals with tenacity and vigour.