Primary and high school students from across the Fowler electorate last week came together to commemorate the 100th anniversary of the Gallipoli landing and Anzac tradition on Saturday, April 25.
The event also served as an exhibit of the artworks designed by students depicting their unique understanding of this important chapter in Australia's history.
Chris Hayes, the Federal Member for Fowler, was on hand to present awards to those students who put in the most commendable levels of effort and dedication to the project.
"The events of the first world war, and particularly the Anzac efforts, helped forge our national identity and define our national character," Mr Hayes said.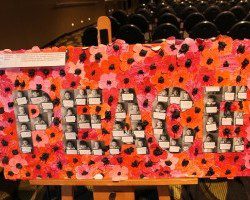 "The project designed by the Fowler Anzac Centenary committee has aimed to involve localyouth in the effort to commemorate this important time in Australia's history and to honour the commitment and sacrifice of Australian servicemen and women during the war," Mr Hayes said.
The committee, which has worked hard over the past 18 months to plan and coordinate the local centenary commemoration efforts consists of representatives from a number of local clubs, ex-servicemen's associations and schools.
The local students have, however, played a vital role in making sure the Anzac Centenary was honoured in the most fitting way. "It is important that we ensure our Anzac legacy continues to be handed down to younger generations," Mr Hayes said.