Campbelltown Arts Centre will launch four new exhibitions on Saturday, June 16.
One of them focuses on local artist David Hawkes.
Looking In: A Survey of David Hawkes – 1989 to Now is an intimate view into the life and eminent career of David Hawkes spanning the past three decades.
This survey exhibition features a selection of works from integral moments of Hawkes's career since moving to the bushland suburb of Wedderburn on the edge of Campbelltown almost 30 years ago in 1989.
The Friends Annual and Focus Exhibition is an opportunity to see some of the best art the region has to offer in an eclectic display by the Friends of Campbelltown Arts Centre.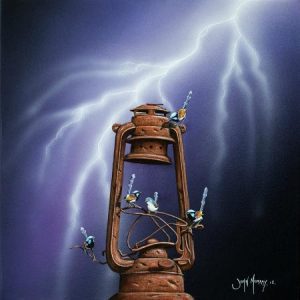 The Focus exhibition will highlight a selection of artworks by a local artist and give insight into their practice.
The third exhibition to be launched on June 16 will be Movement Through Colour.
The Macarthur Textiles Network artists respond to the exhibition's theme of how light and movement make our world dance with colour through contemporary textile practice.
Fourth and final exhibition will be Forrest Bathing | Viki Murray.
Forest Bathing is a new body of work by Lightning Ridge based photographer Viki Murray.
Inspired by time spent in Japan, Murray has combined sumi ink work and photography to explore sensory replenishment through complete absorption in nature.