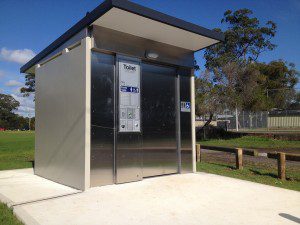 The public dunny of the future is here now, and soon they will be appearing like mushrooms across Campbelltown and Liverpool – Camden will catch up eventually.
Campbelltown is spending some of its new found rates wealth – an extra $60-70 million in the next 10 years, thank you very much – in these fully automated toilets, like this one here, which has been erected on the reserve adjacent to Kentlyn Public School.
The council says as older toilet blocks deteriorate, instead of being repaired they will be demolished and replaced with an automated one.
Liverpool is also embarking on a policy of erecting these new toilets, although some councilors are not happy about the price tag, which is well over the $100,000 mark for each of the toilets.
As for the rest of us, I reckon we will just be glad there will finally be good clean public toilets around.