Oran Park rose to the top of the Ottimo House M-League men's competition after a 5-3 away win over defending champions Gunners SC on the weekend.
And despite the wet conditions across most of Macarthur and outer south Western Sydney, both the men's and women's round four games provided plenty of entertainment.
In other men's clashes Camden Tigers 6 accounted for Mt Annan 6-1, while Narellan overcame Ingleburn 5-2.
In the match of the round Eschol Park, playing at home, defeated a gutsy Harrington United 4-2.
With both teams in search of their first win of the season, it was no surprise that the first half was a real arm-wrestle, although that was partly due to the players also trying to adjust to the wet conditions.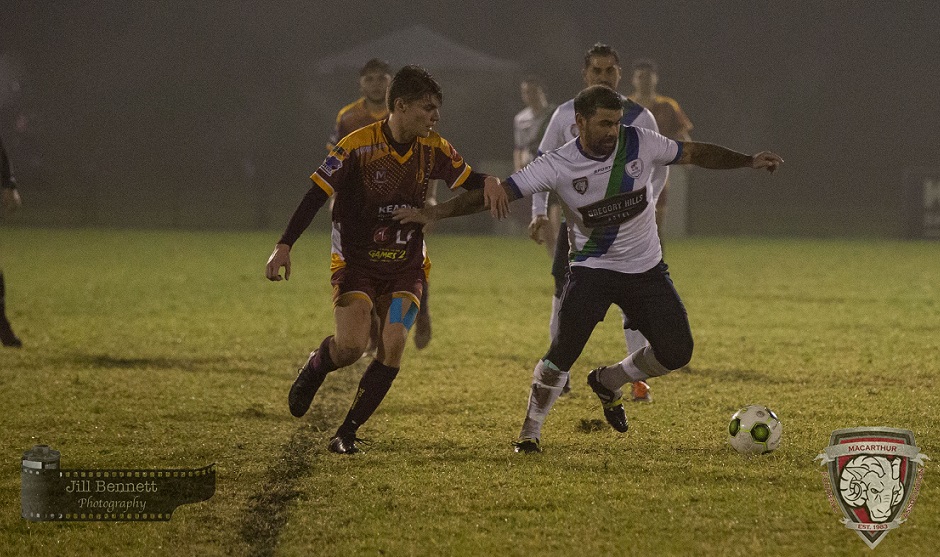 After going to the break at 0 – 0, the game opened up in the second half.
Harrington United struck first through Cameron Middleton from close range in the 48th minute to take a 1-0 lead.
However it only took Eschol Park just five minutes to draw level through Sam Di Bartolo.
Duran Cox gave the home side the lead in the 61st minute with a classic poacher's goal.
The two teams continued to trade blows, with Harrington levelling the game yet again after a free kick was expertly converted by Nirary Kanoun two minutes later.
The decisive goal came at the 79th minute after a deep corner found Duran Cox at the back post, who headed the ball in the top corner to give Eschol Park a 3-2 lead.
Blake Abbott put the icing on the cake in the 90th minute to hand Eschol Park their first win of the season.
Eschol Park 4 (Cox 2, Di Bartolo 1, Abbott 1) – Harrington 2 (Middleton 1, Kanoun 1)
LADDER (After four rounds): Oran Park 10, Gunners SC 9, Camden Tigers 9, Narellan 7, Mt Annan 4, Eschol Park 3, Ingleburn 1, Harrington 0.
Men's reserve grade results:
Eschol Park 6 – Harrington 1
Gunners 0 – Oran Park 2
Camden Tigers 5 – Mt Annan 1
Ingleburn 3 – Narellan 0
U21s (Colts):
Harrington United 6 – Oran Park 1
Tahmoor v Narellan postponed
Eschol Park v Camden Tigers postponed
Ingleburn – bye.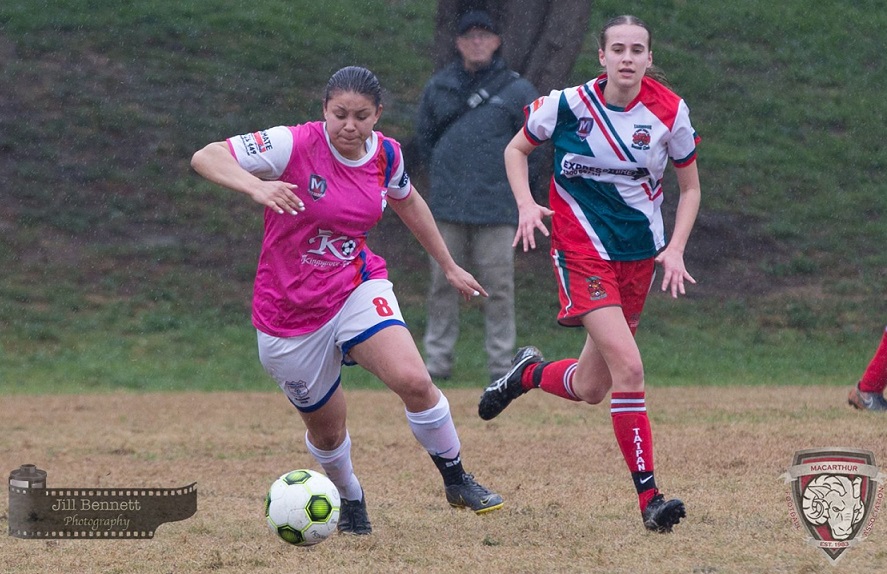 In the women's Ottimo House M-League premiership, Camden Tigers lead the competition on 12 points, with Narellan in second place with nine points.
The Rangers, playing at home, recorded an impressive 4-3 win over Tahmoor in round four, pictured above.
But it was the visitors who struck first, going to a 2-0 lead inside the first 10 minutes, both goals courtesy of Kelsey Moore.
An own goal allowed Narellan back in the match and remarkably by half time the Rangers were in the lead after goals from Angela Susainathan and Taylor Johnston.
Tahmoor clawed their way back to draw level at the 66th minute through Abbey Bannerman.
At the 72nd minute, it was Susainathan who stepped up once again to complete her brace and hand the Rangers an impressive 4 -3 win
Women's M-League results:
Ingleburn 5 – St Mary's 3
Camden Tigers 10 – Eschol Park 1
Harrington 1 – Oran Park 2
LADDER: Camden Tigers 12, Narellan 9, Ingleburn 7, St Mary's 6, Oran Park 6, Tahmoor 3, Eschol Park 1, Harrington 0.
Highlights of the weekly matches can be found on the Macarthur Football Association Facebook page: https://www.facebook.com/MacarthurFootball/