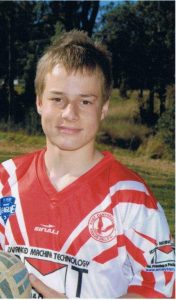 The East Campbelltown Eagles will this Sunday, August 3 pay tribute to former player and popular local, the late Ben Stevens, pictured.
The Eagles will play Mounties for the Benny Stevens Cup and raise money for local youth mental health foundation, Headspace.
East Campbelltown secretary Tammy Draper said:  "Benny was a real competitor on the paddock, always gave his all and absolutely loved the game of rugby league.
"He was always a joker and a really loveable guy, we all miss him so much.
"If we can help Headspace and help one person or one family that would be great."
A special Ben Steven's jersey will feature the Headspace Logo on the front and display the three local clubs he played for, Macarthur Saints, East Campbelltown and Campbelltown City.
The Western Suburbs Magpie logo will also be displayed as he played in the Wests Development Squads.
Tammy Draper said East Campbelltown Eagles were grateful to the jersey sponsors Bettacrete Concrete, Andrew Ingram Carpentry, Around the Clock Pest Control, Dad and Daves Plumbing and Marshall Air.
All jerseys will be available for purchase by silent auction on the day with bids starting at $50. All money will go Headspace,
The Eagles will also be holding their Annual Old Boys day and invite all players past and present to attend.
Ben Stevens took his own life in September 2012 at 22 years of age.
"We are using this game to promote awareness with Headspace and remember Ben Stevens, this is an issue that affects the whole community and we need to let people know there are places you can turn to and count on," Tammy Draper said.
For more information on headspace visit their website here.