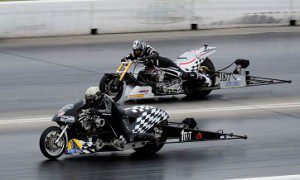 Summit Racing Equipment is the new title rights sponsor for the ANDRA Championship Drag Racing Sportsman Series, beginning with the 2015 season.
Summit Racing Equipment Motorsports and Events manager Jim Greenleaf experienced what ANDRA drag racing has to offer when he recently attended the Australian Nationals at Eastern Creeek.
"I was very impressed with the quality of the racer cars, the level of competition, and the enthusiasm of the racers, teams, and spectators," Greenleaf said.
"The ANDRA organisation has an exciting vision for the future of drag racing in Australia.
"Summit Racing is excited to be the title sponsor of the Sportsman Series as well as being a partner with ANDRA to take sport of drag racing to the next level in Australia."
ANDRA Drag Racing CEO Malcolm Bulley said he was looking forward to the partnership with "a global brand such as Summit Racing Equipment''.
"As we continue to grow, we welcome their input into our premier Sportsman Drag Racing Championship," Mr Bulley said.
The Summit Racing Equipment Sportsman Series will expand to 12 classes with the addition of Top Sportsman for the 2015 season.
"We look forward to working with Summit Racing Equipment to further develop the Sportsman Series," said ANDRA business development manager Jennifer Harrison.
"We have a number of exciting developments planned for our members during the next three years."
ANDRA Drag Racing CEO Malcolm Bulley thanked Graeme Cowin and Rocket Industries for their momentous support over the years and wished them continued success as they shift their focus to their already popular Outlaw Nitro Funny Cars.
The 2015 ANDRA Championship Drag Racing season begins on January 9 at the Perth Motorplex.