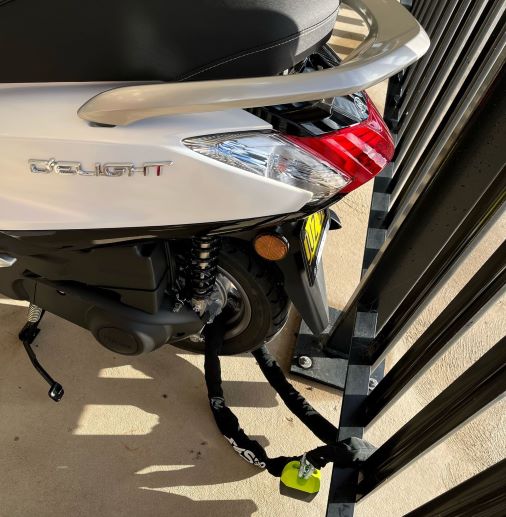 Here is the latest instalment of the life and times of Benediet 'Dino' Sungkar. As regular readers will recall, this hard working young resident's saga started getting media coverage here when like many other commuters he couldn't find a parking spot at Leppington station three years ago.
Dino started cycling to the station from his home in Austral, but it didn't take long for thieves to target his bike.
Eventually he switched to a motorbike, but this too was stolen early this year, so he started thinking: what will I do next?
Well, Dino, who keeps the South West Voice informed of what's happening regarding his travails, has given us some good news: police have caught the bike thieves.
But there was bad news, too: his insurance company wrote off the bike.
"This left me no choice but to go with a cheap scooter since I really need daily transport,'' Dino told us and sent this image of his new wheels.
He said he can rely on his wife and son to pick him up when he gets home around midnight from his shift at Circular Quay.
"Hopefully, after the last stolen motorbike, security is more aware for Leppington station,'' Dino said in his note.
And he has offered some praise for the cops: "Good job, excellent police work catching the thieves.''
xxxxx
Out shopping, the South West Voice picked up a credit card on the floor near the feet of an elderly lady at Minto Mall, near Priceline Pharmacy.
She must have been at least 90 if not older, but quite sprightly, so we weren't surprised to turn around a few minutes later when someone tapped us on the shoulder and it was her, dangling a $10 note.
"Please, please accept this as a thank you for what you did,'' she pleaded.
It took more than five "no, no thank yous'' for her to accept we were not going to take the $10 note.
"You just offering me this little reward is reward enough,'' was our response to her.
xxxxx
Congratulations to local resident Kulwinder Kaur who was the winner of the $1000 ABC Bikes voucher for completing the Campbelltown Council community travel survey.
Council says more than 500 people participated in the survey.
xxxxx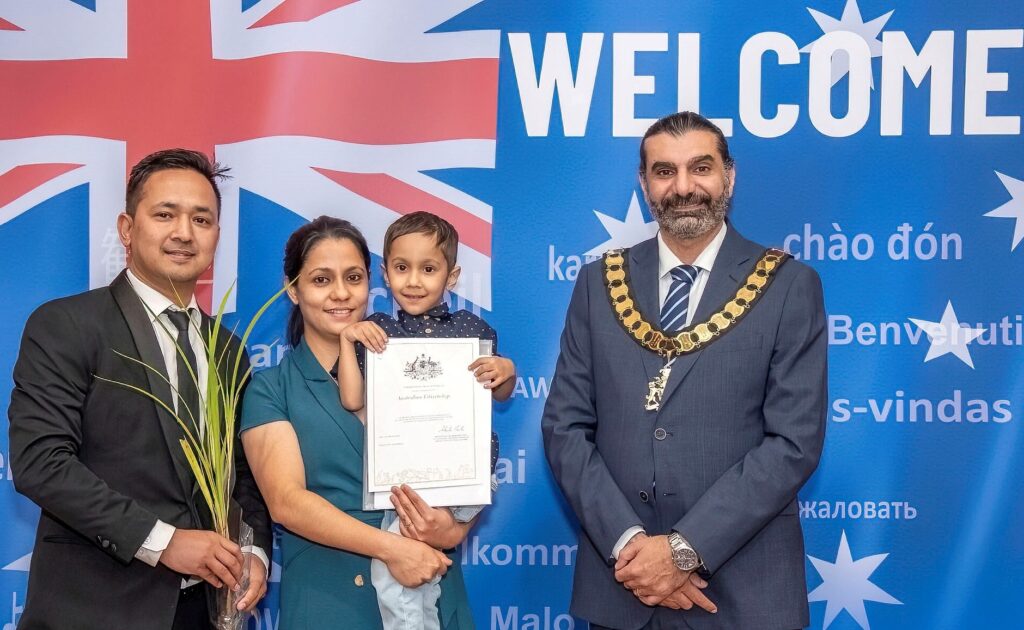 Fifty-five Campbelltown residents were awarded their Australian citizenship at council's first face to face citizenship ceremony since the start of the pandemic.
Mayor George Greiss, pictured above, did the honours and presented each resident with their citizenship certificates.
These newest Australians came from an incredible array of countries around the globe, including Afghanistan, Bangladesh, Cambodia, China, Egypt, England, Germany, India, Iraq, Lebanon, Morocco, Myanmar, Nepal, New Zealand, Nigeria, Pakistan, Philippines, Samoa, Singapore, South Africa and Vietnam.
xxxxx
While some service clubs are stagnating, Ingleburn Rotary has been enjoying remarkable growth in its membership numbers.
Four new members were inducted just last month, and over the past five years Ingleburn Rotary has more than doubled, growing from 14 members, 12 male and two female, to 30 now, 18 male and 12 female.
A terrific effort by this service club, especially the two directors behind the membership drive, Bill Salter and Drew Percival.
xxxxx
Sydney Weekender recently featured an entire episode on Liverpool and tongues were wagging about how it got such a special treatment.
Well, now we know: the episode was paid for by council with ratepayers money.
How do we know? The mayor, Ned Mannoun, admitted as much at the most recent council meeting on March 30.
That was one of the "scoops'' of the first edition of Livo News and Views, put together by Labor councillor Nathan Hagarty.
Another item in the newsletter was the council refusal at the meeting to support the development of apartment buildings and a registered club by the Bulldogs on the old Oasis land in Woodward Park.
All we can add to that is that maybe the Dogs were barking up the wrong tree!
xxxxx
And still on good, old Liverpool, Michael Andjelkovic, the community campaigner who was unsuccessful at the last council elections, has a bee in his bonnet over a flock of ibis birds near historic St Luke's church.
He's written to the council to inform them that the footpath on Elizabeth Street in front of St Luke's between Northumberland Street and Macquarie Mall was "literally covered in crap from the ibis birds roosting in the gum trees''.
Mr Andjelkovic said he discovered the "bin chickens'' had been using the footpath in this way when he went for a walk recently.
Concerned that this may become a health and safety issue, he has written to the council asking them to clean the footpath more regularly and relocate the ibis to a spot where their deposits won't be visible to as many people.
xxxxx
Gerry Knights, the CEO of the South West Sydney Sport Academy, tells us that athletes will be boarding a bus tomorrow headed for Wagga Wagga and the 2022 Academy Games and we wish them success on the sporting fields and arenas.
xxxxx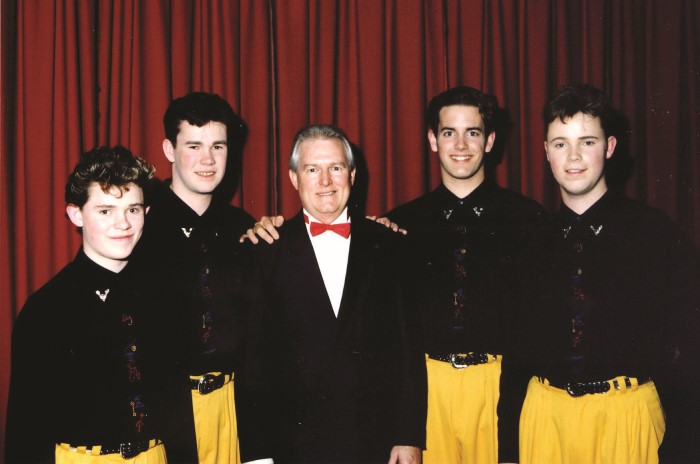 Let's finish with a blast from the past: The winners of a local talent contest in 1992 were "The 4 Trax" – four teenagers from Hurlstone Agricultural High School. Today, Toby Allen, Phil Burton, and brothers Andrew and Mike Tierney, are better known as the world famous act Human Nature.
They are pictured here with then legendary Catholic Club CEO Steve Muter in an image sourced from the Campbelltown Catholic Club Collection.