There will be three main local dawn services across Macarthur and Liverpool on Anzac Day this Saturday, April 25.
They will start at 5.30 and will be in the Bigge Park war memorial in Liverpool, Ingleburn RSL club's Soldiers' Memorial Park and at Mawson Park in Campbelltown.
In Liverpool the Anzac Day march occurs straight after the dawn service, and is from Bigge Park to Liverpool RSL John Edmondson Club in George Street.
A march is also held in Campbelltown following the dawn service.
On the 100th anniversary of Anzac Day, local military historian Gary Lucas has put together a list of war memorials in the Liverpool local government area. They include:
WWII Edmondson VC Memorial Clock, forecourt Liverpool Library;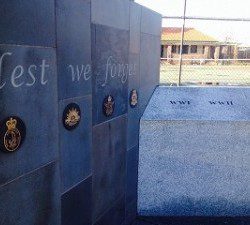 Regional War Memorial, Bigge Park;
Honour Roll SME Moorebank Avenue;
Honour Roll 2nd Commando Regiment Holsworthy;
W.V. Scott WWII Memorial, 4th Ave and Bringelly Road;
WWI Boyland and Kirkpatrick Memorial Stones, 15th Ave West Hoxton. There are up to 20 other memorial stones issued by the former Nepean Shire for WWI;
WWI Memorial Plaque Rossmore Church;
Union Church West Hoxton Honour Roll;
Honour Roll Hoxton Park public school;
WWI Honour Roll Luddenham Methodist Church;
WWII J.H.Edmondson Memorial Plaque at St Lukes entrance from Macquarie St;
Memorial Cenotaph Macquarie Mall;
WWI Ingleburn Honour Roll. Was once in the Liverpool LGA. Now at Ingleburn RSL
WWI Liverpool Golf Course Lansvale;
Soldiers Memorial School of Arts Liverpool;
Council and Cloke Honour Rolls at Liverpool Library.