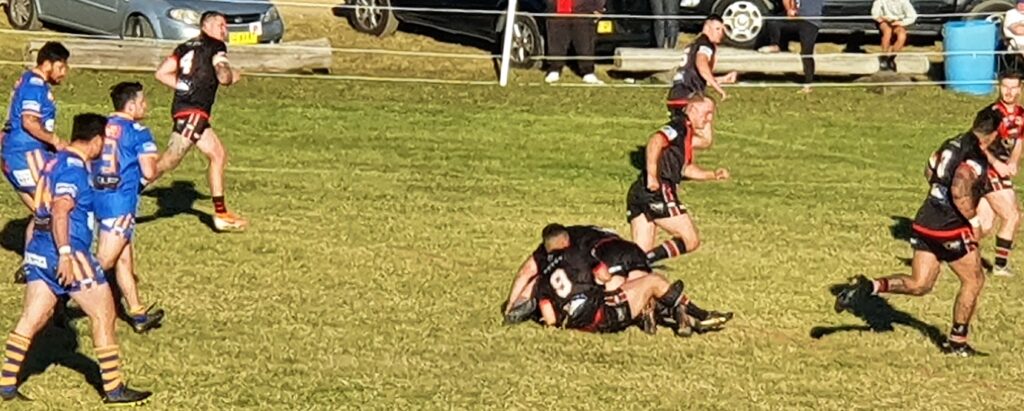 The finals contenders are starting to emerge five rounds into the season.
Camden, Thirlmere, Mittagong, The Oaks and Oakdale have put a four point gap between them and the teams at the bottom of the table – Campbelltown City, Picton, Narellan and South West.
And while it's early days, the Mittagong Lions look like they will be there at the business end of the season as a serious threat to win the 2021 premiership.
On Sunday, Oakdale held off a determined Campbelltown City outfit to win 40-34, while Mittagong defeated Thirlmere 39-18.
The Oaks beat Picton 22-16 at Victoria Park, and in the local derby Camden were too strong for South West Goannas, winning 62-6 at Onslow Oval.
Oakdale scored in the last four minutes to seal victory over a dogged Campbelltown City outfit at Sid Sharpe Oval.
The Workers and Kangaroos traded points throughout the afternoon as the scoreboard continued to tick over at a regular rate during the 80 minutes.
One of the stars on the field was Campbelltown City five-eighth Donovan Boney, who bagged a double for the Roos, but was sin binned inside the final 10 minutes, which proved costly for the visitors.
Boney had caused havoc for the Oakdale line with a number of dangerous runs and kicks during the day.
Workers winger Jarrod Forrest scored three for the home side, while key conversions from Mitchell Brasington kept the home side in the contest.
Campbelltown City made a concerted run after halftime, scoring three unanswered tries in a 10-minute period, as they took the lead 30-28 to stun the small but vocal home crowd in Oakdale.
Forrest's second try with 20 minutes remaining saw Oakdale retake the lead, which they wouldn't relinquish, despite pressure from the Kangaroos, through repeated attacking raids inside the home side's 20 metre line.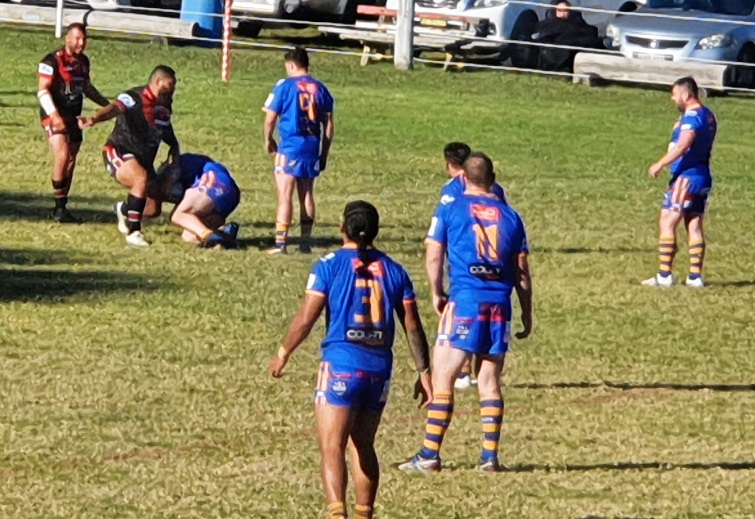 RESULTS – ROUND 5 – FIRST GRADE
South West Goannas 6 Camden Rams 62;
Thirlmere Roosters 18 Mittagong Lions 39;
Picton Magpies 16 The Oaks Tigers 22;
Oakdale Workers 40 Campbelltown City 36.
Narellan Jets bye.
LADDER: Camden 10; Thirlmere, Mittagong, The Oaks 8; Oakdale 6; Campbelltown City, Picton, Narellan 2; South West 0.
RESERVE GRADE
South West 16 Camden 40;
Thirlmere 18 Mittagong 36;
Picton 10 The Oaks 48;
Oakdale 8 Campbelltown City 26;
Narellan Jets 14 Appin Dogs 16.
UNDER 18
Mt Annan Knights 28 Camden Rams 26;
Warragamba Wombats 22 Campbelltown City 34;
Thirlmere 48 Mittagong 0;
Narellan 34 Appin 6;
The Oaks – bye.
WOMEN'S LEAGUE
Narellan 16 Mittagong 14;
Campbelltown City def Oran Park;
Camden def Thirlmere.
LEAGUE TAG
Thirlmere 12 Mittagong 18;
Narellan A 40 Narellan B 8;
Picton def The Oaks.
Camden v Campbelltown City B Thursday 7pm at Kirkham Park.
Oakdale v Campbelltown City A Thursday 7pm at Sid Sharpe Oval.
THIRD GRADE
Campbelltown City 32 Appin Dogs 12;
South West Goannas 40 Mittagong Lions 4;
Mt Annan Knights 16 Camden Rams 32;
Warragamba Wombats 30 Oran Park Chargers (Green) 34;
Picton Magpies 28 Oran Park Chargers (Blue) 20.
NEXT WEEK – ROUND 6 FIRST GRADE
The Oaks v South West;
Picton v Oakdale;
Campbelltown City v Narellan;
Camden v Mittagong (All Sunday 2.30pm).