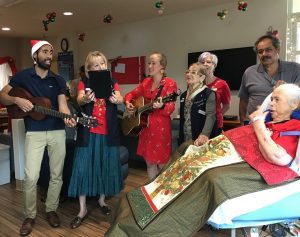 The Christmas spirit has well and truly arrived in our hospitals.
It all started on Friday at Camden Hospital's palliative care inpatient unit when Western Sydney University student volunteers performed Christmas carols for patients, their families and staff.
The unit was filled with Christmas cheer thanks to the beautiful carols performance by Jodie O'Brien and Timothy Teylan and a Christmas lunch donated by the Jennifer Eggins Cancer Foundation.
Some of the patients even put in requests for their favourite carols and sang along when they were performed.
It was by all accounts a lovely occasion for everyone.
But wait, there's more.
Other special health district Christmas events include a Christmas lunch for Camden and Campbelltown Hospitals' auxiliaries today at Campbelltown Hospital.
And this Wednesday there's a Christmas lunch for Camden and Campbelltown Hospitals' volunteers followed by carols at Campbelltown Hospital with Santa Claus and children from Little Zak's Childcare Academy handing out gifts.
xxxxx
Talking of the festive season it's also the time to catch up one last time with people we might not see at Christmas.
It's a very civilised thing to do and the only down side is that you drink way too much coffee at this time of the year.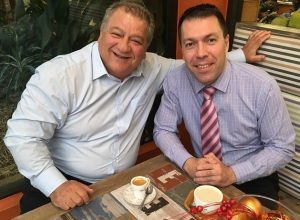 Here at Macarthur Chatter we are enthusiastic participants in this annual tradition.
Last week we caught up, among others, with Mayor George Brticevic to have a chat about this year and what lies ahead for Campbelltown.
More details next year, but unlike the present weather conditions we can confidently say the outlook is by and large a positive one.
xxxxx
A couple of years ago federal Labor MP Chris Hayes was involved in a serious road accident while riding his motorbike around Canberra.
The former member for local seat Werriwa, who still lives in Campbelltown, swore off motorbikes for good after his lengthy rehabilitation.
But we now hear, from a very good source, that Hayes will be buying a new bike and getting back on the saddle, so to speak.
Say it ain't so, Chris.
xxxxx
It was hard to tell what Cr Paul Lake was more upset about: that it took two years to respond to his request for a report looking into the use of drones to monitor koala movement in Campbelltown or that the report recommended against the use of drones.
On balance we guess it was how long it took to provide the report.
"I mean, two years,'' Cr Lake said several times before sitting back down.
"The use of drone technology to monitor koala populations within the Georges River corridor is largely not possible due to restrictions associated with the Holsworthy Army Base as regulated by CASA,'' said the report that took two years to prepare.
"In addition, the technology to monitor koala populations is still in its infancy, with limited examples that do not support it being an effective option for monitoring the Campbelltown koala population.''
xxxxx
Reader Cathy Baker has asked us to once again put out an urgent call for Pat McGeown, the former Campbelltown radio personality who moved to Thailand a couple of years ago.,
"I am a life long friend of Pat's, who I have not heard from in a very long time. I have also tried to contact him many times but nothing,'' wrote Ms Baker.
"I am very worried and please if you know or have heard from him please I would love to know if he is safe.''
Captain Pat, as we was known, was on social media for a few months after arriving in Thailand but suddenly disappeared from all contact.
We agree with Ms Baker and hope all's well with the Captain, so if you can please share with us
xxxxx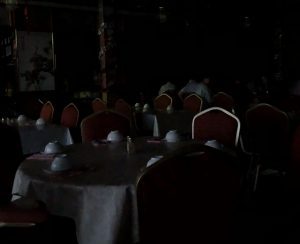 We've copped four consecutive days of summer thunderstorms, and the highlights included hail on Saturday evening that turned Campbelltown lawns white as the driven snow for a few minutes.
But we're tough around here and can handle anything nature likes to throw at us, including blackouts.
Legal eagle Patrick Duffy sent in this picture of dining in the House of Bamboo on Thursday night when the lights went out during heavy lightning around Campbelltown.
No dramas with the service, the food came out pretty much on time, Patrick said.