Paralympian Stephen Gregson is a Liverpool legend.
However, during the 2021 National Carers Week (October 10-16) the spotlight is on his parents Allan and Margaret Gregson, who have been full-time carers for Stephen since he was diagnosed with mild Cerebral Palsy at the age of six.
Stephen started losing his sight at 11 years old, prompting the Gregsons to move from Junee to Sydney to give their son the opportunities a remote country town in NSW could not provide.
"As parents of a child with a disability you always try to do all you can to give them opportunities to participate in activities they enjoy," says Margaret Gregson.
As a swim volunteer teacher and coach, Allan encouraged Stephen into the water from five months old, building up his strength as a swimmer through regular training sessions at Junee Recreation and Aquatic Centre and Michael Wenden Aquatic Wenden Centre.
Allan and Margaret Gregson also become involved with various disability sporting associations as volunteers including the Blind Sports & Recreation NSW/ACT and Cerebral Palsy Sporting and Recreation Association NSW, an organisation they helped form.
Stephen would represent Australia internationally in swimming at the Far East and South Pacific Games for the Disabled 1982, Cerebral Palsy World Championships 1986 and Seoul Paralympics 1988 where he made the finals in backstroke.
While working in supported employment at the NSW Royal Blind Society, Stephen met Kathy, who also was diagnosed with Cerebral Palsy. They were married in 1986.
In the same way as he did with his son, Allan taught Kathy to swim, and she too represented Australia at the Far East and South Pacific Games for the Disabled and World Championships.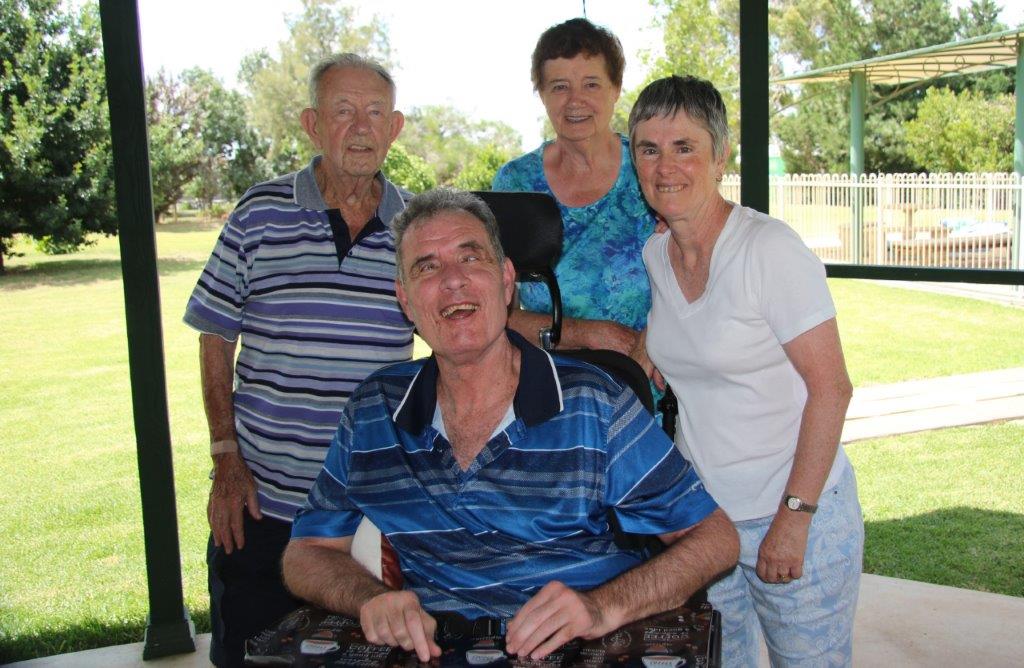 From 26 years of age, Stephen's condition gradually deteriorated and following many tests and biopsies, various specialists reversed his diagnosis of Cerebral Palsy to an undiagnosed neurological condition.
Since 1999, Stephen has gradually become completely wheelchair bound. He lives as independently as he can with Kathy in Liverpool, who is also under the care of her in-laws.
Both recipients of Order of Australia honours, Allan and Margaret are just two of the almost 19,000 people providing unpaid assistance to a person with a disability in the Liverpool local government area.
For Margaret, National Carers Week serves as a reminder to the community that there are millions of people caring for their loved ones unconditionally every day, and a reminder to carers they are not alone in the challenges they face.
"It's not easy but it is the most rewarding job I've ever had over the past 59 years right from the very start of Stephen's life,'' she says.
"I believe most carers in my position who have had to support a child born with a disability would feel the same way.
"Together, what we achieved with our son Stephen and later our daughter-in-law Kathy was wonderful.
"Both were able to overcome some extremely difficult physical obstacles to achieve their goals," Margaret Gregson said.
"Our proudest moment remains Stephen being named Liverpool's Young Citizen of the Year on Australia Day in 1983."