Last winter the residents of Campbelltown were able to enjoy a bit of ice skating for the first time and now they will get the chance to beat summer by cooling off in a giant waterpark.
Campbelltown City Council will partner with Water Wonderland to present a fun-filled waterpark at Bradbury Oval from December 29 to January 28.
Mayor of Campbelltown, Cr George Brticevic, said he was inspired by attending a similar event at Moore Park.
"This will be a fun and exciting addition to the area for the summer holidays and provide a place for people to cool off and enjoy without having to leave town," Cr Brticevic said.
"Our residents have told us they want more water based activities and this is one way of bringing that experience to them while we explore plans to build a billabong next to Bradbury Oval."
Cr Brticevic said the Water Wonderland was a natural follow-on from the success of the Winterland festival held during the July school holidays.
"Winterland was heartily embraced by the community with its winter wonderland themed rides, food trucks and ice skating," he said.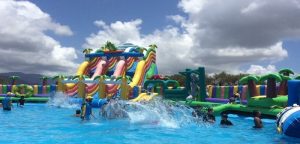 "Water Wonderland will provide something similarly special for our residents during the summer school holidays as well as creating local employment opportunities."
Water Wonderland will include a variety of inflatable water slides and activities as well as food stalls in a fun, carnival-like atmosphere.
For more information about Water Wonderland, including ticketing information, visit www.campbelltown.nsw.gov.au/waterwonderland
The following YouTube clip provides a taste of what residents of Campbelltown can expect when water Wonderland comes to town. https://www.youtube.com/watch?v=5pbGs1WRXAo