The NRL says there's no problem with the surface or player safety, but after hosting three NRL games in three days on the weekend, Campbelltown Sports Stadium has had the next scheduled game there moved to Jubilee Oval, Kogarah.
NRL head of football Graham Annesley announced the decision earlier today
Asked if the NRL had any concerns with player safety at Campbelltown, he said "no''.
"Campbelltown has been under a lot of stress with three games on the weekend, plus there was rain as well, which didn't help the situation,'' he told media.
"The staff at Campbelltown Stadium have done an excellent job hosting a number of teams,'' Annesley said.
The NRL has moved Thursday night's game between the Panthers and Rabbitohs from Campbelltown Stadium, the only match of round seven scheduled for the venue.
At least two TV commentators, Brad Fittler on Channel Nine and Ben Ikin on Fox Sport, noted the scuffed up condition of the surface at Campbelltown.
Fittler said he believed teams assigned to the Campbelltown hub were "looking forward to returning to their own home grounds''.
Ikin, after mentioning how "chopped up'' the surface at Campbelltown was, urged the NRL to review scheduling consecutive games at the same venue.
Campbelltown Sports Stadium was included as one of a small number of venues hosting NRL games between round three, when the competition resumed, and round eight.
When some local fans expressed concerns about the look of the pitch during the very first two games played  at Campbelltown on June 5, between the Panthers and the Warriors (below), and on June 7 between the Raiders and the Knights, Campbelltown Council told the South West Voice there was nothing to worry about.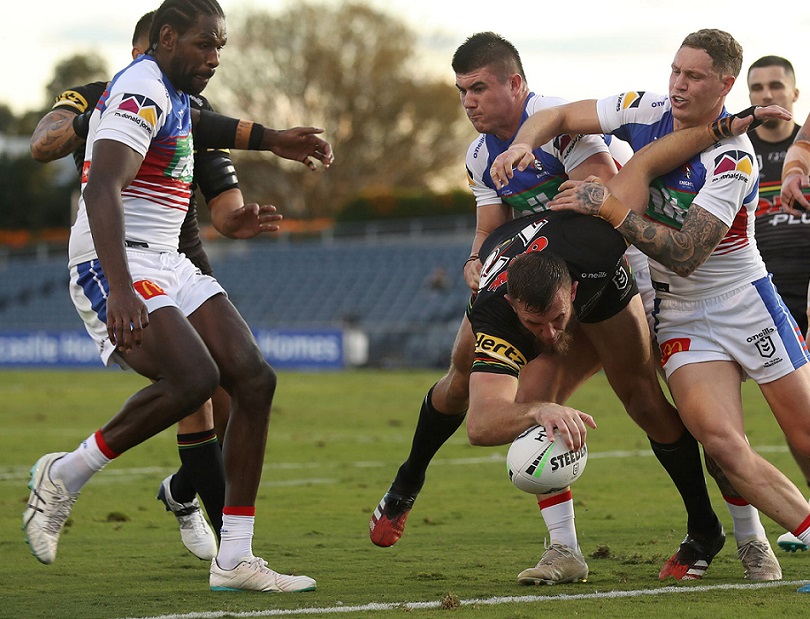 "The stadium playing surface remains at a world class standard to host elite sports and neither the NRL or the clubs who played on Sunday evening have expressed any concern about playing conditions,'' the council said.
"Our ground staff work tirelessly to ensure the playing surface at Campbelltown Sports Stadium is of a world class standard in preparation for any sporting events.
"Couch grass used on the stadium surface in preparation for the resumption of the NRL season is a naturally fluffier grass and any scuff marks to the pitch are purely cosmetic that do not affect the quality of the pitch.''