Campbelltown firefighter Peter Jensen took a while to find a career he could call his own.
His family is from Horn Island in the Torres Strait and Mapoon in far north Queensland, and he grew up on Jirrbal country in the Atherton Tablelands, where he began picking mangoes and tobacco at 15.
"That was some of the only work available for Indigenous people at the time," he says.
Peter was spotted on the sport field and went on to play NRL professionally for the Canberra Raiders while undertaking a mechanical apprenticeship.
Later on, he played rugby league in France, managed timber plantations in Tumbarumba, and worked as a heavy diesel mechanic in Newcastle before finding work as an Aboriginal education assistant at Reiby Juvenile Justice Centre.
But it wasn't until he started a Diploma of Community Services with TAFE NSW that he really began to realise his own potential.
"That's when I started to find my passion for work and what I was doing began to resonate with me deeply, rather than it just being a job," he says.
"I come from a disadvantaged background and a small community, and I thought I was too stupid to study – I had a lot of doubt and lacked self-confidence.
"The Diploma made me realise my needs were just more complex and TAFE NSW provided incredible support. The Diploma helped me to put the jigsaw pieces together and learn about myself and what makes a functioning, thriving human being."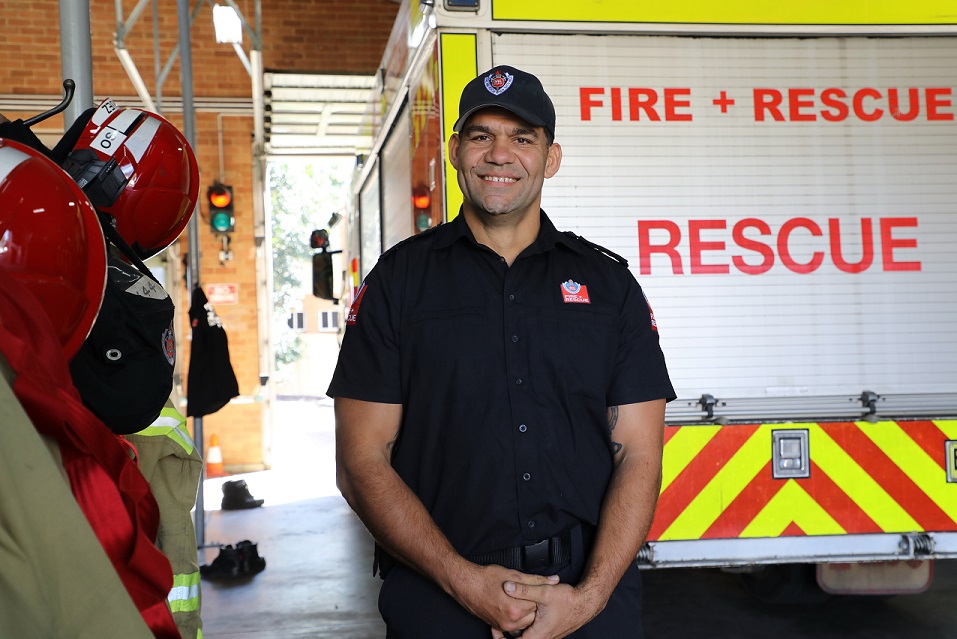 Jensen went on to complete a Diploma of Counselling at TAFE NSW Bankstown and became a case work manager with the Department of Family and Community Services.
After working in community services for 12 years, Peter was inspired by a chance meeting with an Aboriginal man who was a firefighter.
He said he'd never contemplated it as a career as he had no role models to look up to.
After several failed attempts to pass the NSW Government aptitude test, Peter joined the Indigenous Fire and Rescue Employment Strategy (IFARES) program – and something just clicked.
The program has Fire and Rescue NSW and TAFE NSW working together to equip Aboriginal men and women with a Certificate III in Fitness and the skills to become a firefighter.
Since it began in 2014, there has been 206 graduates with a 98 per cent completion rate and more than 60 per cent of participants have secured employment with Fire and Rescue NSW.
"The IFARES program absolutely sets people up for success," says Jensen, who is now 40 years old.
In 2015, Peter was awarded a TAFE NSW Gili Award for student achievement as well as being honoured with the Silver Axe – the highest Fire and Rescue NSW award for academic and physical achievement.
In addition to his firefighting duties, Peter now works part-time at TAFE NSW teaching Aboriginal arts and culture as well as being a mentor to other IFARES participants, sharing his extraordinary life experience.
"Having the opportunity to be a mentor with TAFE NSW to re-engage Aboriginal people and help them to follow their dreams is something I feel very privileged to be part of," he says.
​​​​​​​